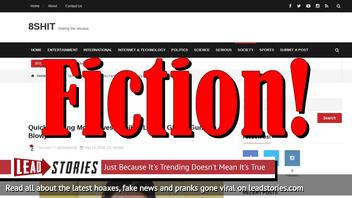 Did a woman from Texas named Jennifer Bail give head to a robber so her husband could knock him out long enough for their children to escape? No, that's not real: the somewhat unusual act of heroism was made up by a website that habitually invents false stories about weird crimes and sex acts for entertainment purposes.
The story originated from an article published by 8Shit on May 14, 2018 and was titled "Quick-thinking Mom Saves Family's Life By Giving Gunmen A Blowjob" (archived here). It opened:
"He was armed and dangerous but so is my mouth"

Jennifer Bail is a hero to her family of four after doing the unthinkable to save their life.

A Texas woman is a hero to her family of four after giving a robber head long enough to distract him so that her husband could hit him in the back of the head with a chair while the children escaped.
The actual story connected to the woman in the photo illustrating the article is a lot more tragic: Michelle Rice from Edmonton, Canada was charged with murder after her 11-day-old daughter died of a drug overdose:
A 31-year-old Edmonton woman has been charged with second-degree murder after an 11-day-old baby died from a lethal dose of methamphetamine, police said on Thursday afternoon. On Wednesday, March 29, police were called to a report of a baby not breathing at a residence in the area of 72 Street and 83 Avenue.
In 2017 the same story already appeared on Now44News but with a different picture. It was debunked by Snopes at the time:
A "quick-thinking mom" distracted a robber by performing a sex act on him in order to allow her family to safely escape. False On 13 January 2017, the Now44News web site published an article reporting that a Texas woman performed a sex act on a putative robber in order to distract the intruder and buy time for her family to escape: "He was armed and dangerous but so is my mouth" ...
In addition 8shit.net carries a disclaimer on its about page that reads:
8Shit is a satire and humor website.

It contains cutting edge satire on a diverse range of topics.

The website publishes fake news, shocking rumors and reports with incisive sarcasm, and humor.

We also post crazy real news which often sounds too good to be true.
And an additional disclaimer in the footer of every page:
8Shit is a satire news and humor website. All its content is fiction (except those posts under the "serious" category) and shouldn't be taken as real. All references, names and marks or institutions in this website are used as contextual elements, like in any novel or science-fiction story.
We wrote about 8shit.net before, here are our most recent articles that mention the site: