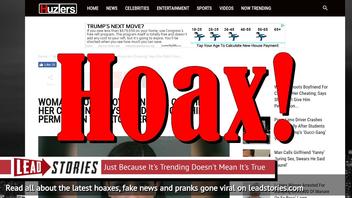 Was 25-year-old Amy Johnson from San Francisco arrested for shooting her boyfriend because he caught her cheating but she didn't give him permission to catch her? No, that's not real. The story was made up by a website that invents news about bizarre crimes and sex acts and calls it "fauxtire" ("faux" + "satire").
The story came from an article published by Huzlers on May 23, 2018 titled "Woman Shoots Boyfriend For Catching Her Cheating; Says She Didn't Give Him Permission To Catch Her" (archived here) which opened:
SAN FRANCISCO - Amy Johnson, 25, is being charged with attempted murder after she shot her boyfriend for allegedly catching her in the act of cheating, in which she later told authorities: "I didn't give him permission to catch me cheating".

Amy Johnson allegedly shot her boyfriend after he discovered her to be cheating, according to Amy's boyfriend, who survived the gunshot wound, he walked into the bedroom to find Amy having sexual intercourse with another man, after which she took out a gun and shot her boyfriend in the leg while asking him: "I can't cheat in my own life?"
The picture used with the story doesn't even show someone from San Francisco, it is a 2012 mugshot from El Paso County, Texas:
Ileana Mahon Mugshot - Mugshots.com is a search engine for Official Law Enforcement records, specifically arrest records and booking photographs, mugshots. Originally collected and distributed by Law Enforcement agencies, booking records are considered and legally recognized as public records, in the public domain.
Huzlers styles itself as a "fauxtire" website and carries a disclaimer at the bottom of each page:
Huzlers.com is the most infamous fauxtire & satire entertainment website in the world. If it's trending on social media you'll find it here!
According to Splinter News the site is run by Pablo Reyes and David Martinez and according to Buzzfeed Reyes is involved with several other fake news websites. They tend to shy away from political stories, opting instead to write for a more "urban" audience, with stories about rappers, criminals and celebrities.
We wrote about huzlers.com before, here are our most recent articles that mention the site: