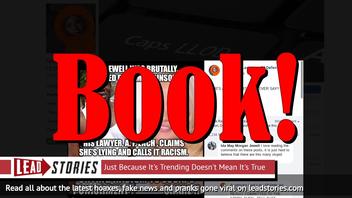 Was May Ewell brutally raped by Tom Robinson and does his lawyer claim she is lying because of racism? No, that's not actually real: both people and the lawyer are fictional and appear in the book To Kill A Mockingbird by published by Harper Lee in 1960. But a meme published by a satirical liberal Facebook page pretended the events did happen for real in order to get conservatives and Trump supporters to get angry about a fictional story.
The meme read:
MAY EWELL WAS BRUTALLY RAPED BY TOM ROBINSON

HIS LAWYER, A. F. ENCH, CLAIMS SHE'S LYING AND CALLS IT RACISM

IF YOU'RE TIRED OF THUGS CRYING RACISM TO ESCAPE PUNISHMENT- SHARE !!
The meme was posted published on June 27, 2018 by the Facebook page "America's Last Line Of Defense" (archived here) with following comment:
THATS ALL THE LIBTRADS EVER SAY!!
The list of characters of To Kill A Mockingbird lists Mayella Ewel and Tom Robinson. Tom is accused of raping and beating Mayella in the book and he is represented by attorney Atticus Finch in the story, whose name is bastardised as "A. F. Ench" in the meme.
The black man in the picture is actor Michael Clarke Duncan in The Green Mile:
The Green Mile (1999) Michael Clarke Duncan as John Coffey
The blonde woman is just a stock photo of a "Smiling blonde woman":
More than a million free vectors, PSD, photos and free icons. Exclusive freebies and all graphic resources that you need for your projects
The 'about' section of the Facebook page spreading the meme read:
About
Nothing on this page is real. It is a collection of the satirical whimsies of liberal trolls masquerading as conservatives. You have been warned.

Impressum
Use the force and the truth shall reveal itself. Just not here. Ever.

Products
Good Old Fashioned Liberal Troll Provided Fantasy presented as comedy to the left and a social experiment to the right. Please don't hurt the Trumpanzees. they'll be gone in a few years back to the shadows from whence they came and we'll be back to trolling Tea Turds.