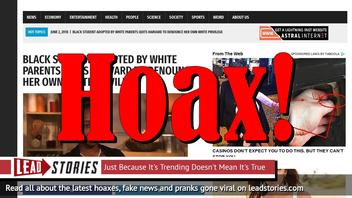 Did 24-year-old black student Evelyn Matheson quit Harvard law school because she was adopted by white parents and she claimed that gave her unethical white privilege? No, that's not true: the story appeared on a website that makes usually makes up stories about bizarre crimes and weird sex acts but occasionally forrays into political satire. The story is not real, it did not happen.
The story originated from an article published by World News Daily Report on June 2, 2018 titled "Black student adopted by white parents quits Harvard to denounce her own white privilege" (archived here) which opened:
Cambridge, MA | A 24-year-old Harvard student has decided to quit during her last year of law school for what she believes to be ethical reasons.

Evelyn Matheson, 24, has decided to go public about her decision to boycott her final exams because she did not feel entitled to her estimated $300,000 Harvard law school education because of her white upbringing.

Matheson claims that the reality of her white social status and privilege became unbearable to her as she was about to complete her Harvard law studies.

"Unlike most black folks who have spent their life victims of discrimination, oppression, and poverty, I have had the unfair privilege of having a white upbringing because of my wealthy adoptive white parents that I clearly do not deserve," Matheson told reporters.
The girl in the picture that accompanied the story was actually Taylor Dumpson who went to American University in Washington D.C. and who is suing a notorious racist troll over several incidents that took place:
Now she wants justice -- not just for a vile incident involving an unidentified man hanging bananas from nooses around the school's Washington, D.C., campus, but for the racist "troll storm" she says was coordinated against her by Daily Stormer publisher Andrew Anglin.
The website World News Daily Report is a well known satire website specialized in posting hoaxes and made up stories. The disclaimer on their website is pretty clear about that even though you have to scroll all the way down the page to find it:
World News Daily Report assumes all responsibility for the satirical nature of its articles and for the fictional nature of their content. All characters appearing in the articles in this website - even those based on real people - are entirely fictional and any resemblance between them and any person, living, dead or undead, is purely a miracle.
It is run by Janick Murray-Hall and Olivier Legault, who also run the satirical Journal de Mourréal, a satirical site spoofing the (real) Journal de Montéal. Very often their stories feature an image showing a random crazy mugshot found in a mugshot gallery on the internet or on a stock photo website superimposed over a background of flashing police lights or crime scene tape.
Articles from the site are frequently copied (sometimes even months or years later) by varous fake news websites that omit the satire disclaimer and present the information as real.
We wrote about worldnewsdailyreport.com before, here are our most recent articles that mention the site: