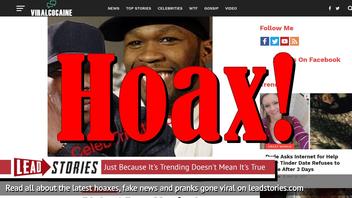 Did rapper 50 Cent buy Murder Inc. Records thereby owning all of his rival Ja Rule's music publishing rights? No, that's not true: the story was first reported by "fauxtire" website Celebtricity in 2015. The same article appeared on a renamed version of that site which suddenly went viral again in June 2018 because it was reposted on the Facebook page of musician Trina:
The viral story she posted was an article published by ViralCocaine on February 11, 2015 titled "50 Cent Buys Murder Inc Records, Owns All Ja Rules Music Publishing (VIDEO) - CelebTriCity" (archived here) which opened:
Years after they were the heavyweights of hip-hop, it has been announced that 50 Cent's record label G-Unit Records has purchased his former rival Ja Rule's record label Murder Inc. for the meager sum of 50,000 dollars.

Murder Inc. went on sale at an IRS auction several weeks ago unbeknown to most of the public until it was found by 50 Cent's attorney Michael Barlow. Once he was informed about the situation, he jumped at the opportunity.

He went on to say, "there's no way I could pass this up. I just heard Ja had fell on hard times, working as a janitor. How could I not buy Murder Inc.? Between me and you, I can't wait to remake Between Me and You."
Since then no real news websites reported on the acquisition and no mention is made about it in the history of the label on it's Wikipedia page:
After helping Def Jam with the success of DMX & Ja Rule, Russell Simmons gave Irv Gotti his own label under Def Jam. While watching on A&E during gangster week a Murder Inc. logo appeared on the screen which gave Irv Gotti an idea what to call his label.
In addition ViralCocaine comes with a disclaimer that is identical to Celebtricity's:
viralcocaine.com is the most notorious fauxtire & satire entertainment website in the world. If it's trending on social media you'll find it here.