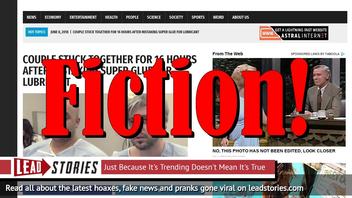 Were gay couple Matthew Kensworth (39) and Jamie Loon (37) stuck together for 16 hours because they mistook a bottle filled with super glue for lubricant after a friend pranked them? No, that's not true: the entire story was made up by a site that posts fictional stories every day about bizarre sex acts or weird crimes. It is not true.
The story appeared in from an article published by World News Daily Report on June 8, 2018 titled "Couple stuck together for 16 hours after mistaking super glue for lubricant" (archived here) which opened:
San Francisco, CA | A San Francisco couple was hospitalized for an excruciating 16 hours this week at San Francisco's General Hospital after mistaking an industrial adhesive with sexual lubricant.

Matthew Kensworth, 39, and Jamie Loon, 37, called emergency services after realizing they were literally glued together and were unable to detach themselves from one another.

One of their friends allegedly filled a bottle of lubricant with a strong adhesive as a prank but eventually felt horrible when he learned about the 16-hour-long hospitalization that later occurred.

"It was important to proceed with as much care as possible not to permanently damage or tear the skin from the anal region," Dr. Anna Schubert at San Francisco's General Hospital told reporters.
The two men pictured in the illustration that went with the story were actually two men trying "labor pain simulators" to experience what their wives go through during childbirth.
It's an age-old question: Is giving birth really more painful than when men get hit in the you-know-what? As it unsurprisingly turns out, yes. Yes, it is. And this became even more clear after these men tried labor pain simulators to prove women wron...
The website World News Daily Report is a well known satire website specialized in posting hoaxes and made up stories. The disclaimer on their website is pretty clear about that even though you have to scroll all the way down the page to find it:
World News Daily Report assumes all responsibility for the satirical nature of its articles and for the fictional nature of their content. All characters appearing in the articles in this website - even those based on real people - are entirely fictional and any resemblance between them and any person, living, dead or undead, is purely a miracle.
It is run by Janick Murray-Hall and Olivier Legault, who also run the satirical Journal de Mourréal, a satirical site spoofing the (real) Journal de Montéal. Very often their stories feature an image showing a random crazy mugshot found in a mugshot gallery on the internet or on a stock photo website superimposed over a background of flashing police lights or crime scene tape.
Articles from the site are frequently copied (sometimes even months or years later) by varous fake news websites that omit the satire disclaimer and present the information as real.
We wrote about worldnewsdailyreport.com before, here are our most recent articles that mention the site: