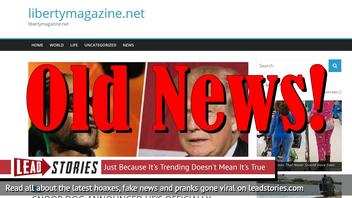 Did rapper Snoop Dogg just announce he is leaving the United States because he hates President Trump? No, that's not true: the story is based on a single Instagram post Snoop sent in 2016:
The story recently went viral again through an article published by libertymagazine.net on June 18, 2018 titled "SNOOP DOG ANNOUNCED HE'S OFFICIALLY LEAVING THE COUNTRY BECAUSE HE HATES PRESIDENT TRUMP...! - libertymagazine.net" (archived here) which opened:
It is well known that Snoop Dogg does not like President Trump, especially after he "assassinated" Trump in a music video. Just as the majority of the left-wing celebrities, he stated he will leave America if Trump gets elected. Now, he is finally leaving the country.
America Now reports:
Cordozar Calvin Broadus, Jr., better known by his rap moniker Snoop Dogg, took to Instagram to announce that he will be moving to Toronto, BuzzFeed News reported. He even reached out to Toronto native Drake for help finding a new home.
Alongside a photo of the CN Tower, Snoop Dogg wrote:

"My new home. @champagnepapi I need the hookup on some property. Nefew f*ck this sh*t I'm going to the. 6ix"
The article is basically the same piece of text copy pasted twice. The BuzzFeed report is real though:
And unlike most of them, Snoop actually has a Canadian business connection. He has a line of exclusive marijuana strains with a dispensary in Smith Falls, Ontario.
The story has been endlessly repeated and copy pasted since 2016, with no actual news about Snoop moving outside the U.S. being reported since.