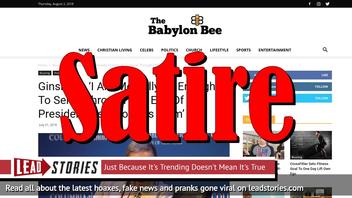 Did Supreme Court Justice Ruth Bader Ginsburg say she is mentally fit enough to serve through to the end of the Eisenhower administration? No, that's not true: the fake quote was made up by a satirical website but some people believed it to be real.
The story originated from an article published by The Babylon Bee on July 31, 2018 titled "Ginsburg: 'I Am Mentally Fit Enough To Serve Through The End Of President Eisenhower's Term'" (archived here) which opened:
WASHINGTON, D.C.--Dispelling rumors that the Supreme Court Justice could be retiring soon, Ruth Bader Ginsburg told reporters that she is "mentally fit enough to serve through the end of President Dwight D. Eisenhower's term in office."

She made the comments just after her second morning nap, telling the press "not to worry" about her mental state.

"I can wait out that old Republican bat," she said, grinning. "I'm not gonna sit around and let Eisenhower pick a terrible Supreme Court nominee like Earl Warren to replace me. No, siree. I'll wait until one of the Kennedys finally runs for office so we'll get a solid, left-wing judge in my place."
Dwight D. Eisenhower was president between 1953 to 1961 and passed away in 1969. Ginsburg was only nominated to the court in 1993 during the Clinton administration. So even if she was a bit confused it would be unlikely she would go that far back in time.
And of course "The Babylon Bee" comes with following dislaimer on every page:
The Babylon Bee is Your Trusted Source For Christian News Satire.
Some of their greatest past hits include:
With a track record like that it is clear that you shouldn't take anything posted on the site seriously and you definitely shouldn't confuse it with real news.
We wrote about babylonbee.com before, here are our most recent articles that mention the site: