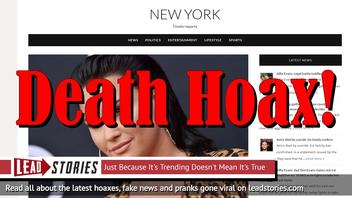 Did singer and actress Demi Lovato pass away aged 25 after a heroin overdose? No, that's not true: the part about the overdose is real but news of her passing was spread around by a website known for publishing death hoaxes. The site is very likely connected to a larger network of fake news websites possibly originating in Ghana.
The story originated from an article published by nytiwes.com (not nytimes.com) titled "Singer and actress Demi Lovato has died at 25" (archived here) which opened:
American pop star and actress Demi Lovato who was rushed to hospital in Los Angeles after a reported heroin overdose has died, spokesman said in a statement.

Lovato died at the age of 25 while on admission at the hospital but the statement did not mention the cause of her death.

The former judge on American X Factor was said to have been found unconscious at her Hollywood Hills home.

Lovato, who was candid about her struggles with cocaine abuse and self harm, was treated with the emergency drug Narcan, TMZ reported.
News about Lovato's drug overdose is all too real but she is still in hospital recovering from it:
Demi Lovato Still Hospitalized 'Complications' 6 Days After OD Demi Lovato is still at Cedars-Sinai Medical Center ... where she's been since OD'ing on drugs last Tuesday. As for why, we're told Demi is very, very sick. Sources with firsthand knowledge tell TMZ, she is suffering extreme nausea and a high fever, among other things.
The website nytiwes.com uses several tactics we've seen before in a large, Ghana-based network of fake sites:
Using domain names that resemble real news websites but with one letter transposed or missing
Publishing death hoaxes about famous people that have been reported as being in hospital (only a few weeks ago the same site ran a George H.W. Bush death hoax)
Spreading the hoaxes via dozens of Facebook groups at the same time
Hoaxes meant for widely diverse geographical audiences published on the same site
You can read ùore about that network here:
STORY UPDATED: check for updates below. On April 17, 2018 former First Lady Barbara Bush passed away but a full day earlier an article prematurely announcing her death from a website pretending to be CNN managed to rack up a combined 2.3 million likes, shares and comments on Facebook.
As Alex Kaplan from MediaMatters noticed, one of the Facebook accounts ("Maame Nyarkoh") used for spamming the link into Facebook groups was previously used by this very network:
This is the same account that spammed into Facebook groups the fake CNN site Barbara Bush death hoax before she died (it's one of the year's most viral hoaxes so far) & was connected to an African hoax network behind that hoax. https://t.co/eqOSKfbtKk https://t.co/Y3l1V2Id3d

-- Alex Kaplan (@AlKapDC) August 1, 2018
Special thanks also goes to Unfakery for originally spotting the hoax.