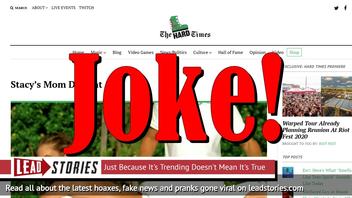 Did Stacy's mom die at the age of 53? No, the fictional character from the famous song by the band Fountains of Wayne did not pass away for the simple reason she doesn't exist. A satirical music website published the story and several people who thought she was based on a real person made the "news" go viral even though it wasn't true.
The story originated from an article published by The Hard Times on August 13, 2018 titled "Stacy's Mom Dead at 53" (archived here) which opened:
WAYNE, N.J. -- World-renowned MILF Stacy's mom, made famous by rock band Fountains of Wayne, died suddenly last night due to a heart attack at the age of 53, sources close to the family confirmed.

"I was watching her out at the pool all day," said 18-year-old David Anderson, who described Stacy's mom as his "guardian angel." "Then I saw her grab her chest and run inside, all nervous like. I got worried, you know? So I called 911, and they took her away in an ambulance. If I hadn't been spying on her like always, who knows how long it would've been until they found her? It's a shame she passed before I could work up the courage to talk to her."
Users on social media only saw this title, description and thumbnail and they may have confused it for an actual news report:
Stacy's mom, the world renowned MILF made famous by Fountains of Wayne, died suddenly due to a heart attack at the age of 53.
But the character was not a real person and in an MTV interview band guitarist Adam Schlesinger said the whole thing was inspired by a comment about his grandmother:
All boys have thought about it. Whether it was your fourth grade teacher or the mother of the new kid at school, at one point in every adolescent male's life, it dawns on them that all mothers aren't identical to their own apron-clad disciplinarian. Some of them are actually hot.
Specifically:
"One of my best friends, when we were maybe 11 or 12, came to me and announced that he thought my grandmother was hot. And I said, 'Hey, you're stepping over the line,' but at that point in life, I wouldn't put it past anyone."
In the video shot for the song the mom is played by Rachel Hunter, who is still very much alive at the time of writing.
The Hard Times has an about page that explains what is going on:
The Hard Times is a very real punk news site that you should not question. Just absorb the information as truth and move on. The historic satire site was founded in December 1982 at 171A studios while the founding members were eating broken glass with The Bad Brains. It's made by a group of punk and hardcore kids from all the different sub-genres of the DIY hardcore scene. Any resemblance to actual persons or band names is coincidental.
We wrote about thehardtimes.net before, here are our most recent articles that mention the site: