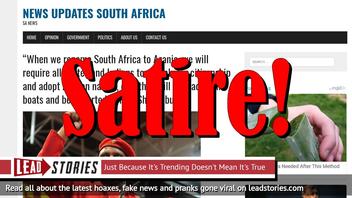 Did Floyd Shivambu, second in command of the EFF, say South Africa will be renamed to Azania and when that happens all whites and Indians will have to re-apply for citizenship or they would face deportation? No, that's not true: the story originated on a South African satire website, it is not real.
The story originated from an article published by a site named News Updates South Africa on August 12, 2018 titled ""When we rename South Africa to Azania, we will require all whites and Indians to reapply for citizenship and adopt African names, else they will be loaded on boats and deported", Floyd Shivambu - News Updates South Africa" (archived here) which opened:
The EFF second-in-command spoke about the party's controversial stance on Indian South Africans, saying 'some Indians stand with white people and undermine the leadership of African people'.

Shivambu addressed the issue of name changes in South Africa, saying he believed 'South Africa' had colonial connotations and should be changed to Azania.

"The name South Africa was an attempt to give direction to the colonial output. We must decide as a country to democratically change the name of the country to Azania," he said.
Users on social media only saw this title, description and thumbnail:
But the website posting the news carried following disclaimer on ites about page:
News Updates South Africa is South Africa's  number 1 news satire website.
So you probably shouldn't rely on it for accurate news updates.