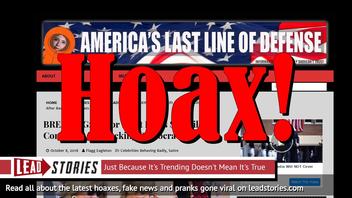 Did singer Taylor Swift lose a $14 million contract after backing two democrats in the upcoming Tennessee midterm election? No, that's not true: while she did post a message to her Instagram account earlier backing Phil Bredesen for Senate and Jim Cooper for House of Representatives, the part about her losing the contract was made up by a liberal satire website that loves to fool conservatives and Trump supporters into liking and sharing fake news online so their fans can mock them for it. The story is not real.
The story originated from an article published on October 8, 2018 by America's Last Line of Defense titled "BREAKING: Taylor Swift Loses $14 Million Contract After Backing Democrats" (archived here) which opened:
Taylor Swift betrayed Trump Nation today when she let it be known that she prefers gays, minorities, and liars over the people who got her where she is today. By backing Democrats in Tennessee, Swift has shown that she has no business in a Red Hat.

Her agent, who also handles greats like Ted Nugent and the Joel Osteen Choir, has now dumped her, costing her a $14 million contract to be the new face of Bain de Soleil. The company, trying to recover from a devastating 2003, has been after a talent like Swift for some time, but say they completely understand.

Company representative and Senior Vice President in charge of Dead Sea Mud and Phosphate, Art Tubolls, told Fox News:

"The young lady had a bright future with us. Now we'll go with our next pick. Tomi Lahren will step in and do a great job."
Users on social media only saw this title, description and thumbnail:
She should have known better.
The pictures used to illustrate the story date back from 2015 when the singer found out her mother was suffering from cancer:
Taylor Swift's mother has cancer, the pop star revealed some sobering news Thursday. She wrote via Tumblr that her mother, Andrea Finlay, was recently diagnosed with an unspecified form of cancer. "The results came in, and I'm saddened to tell you that my mom has been diagnosed with cancer," Swift said in the post.
And "Art Tubbols"is just an anagram for "Busta Troll", the nickname of the owner of the site. He never spoke to Fox News about Swift.
The site comes with a clear satire disclaimer at the bottom of each article:
sat·ire ~ˈsaˌtī(ə)r
noun
the use of humor, irony, exaggeration, OR ridicule to expose and criticize people's stupidity or vices, particularly in the context of contemporary politics and other topical issues.
If you disagree with the definition of satire or have decided it is synonymous with "comedy," you should really just move along.
The owner and main writer of the site is self-professed liberal troll Christopher Blair, a man from Maine who has made it his full time job to troll gullible conservatives and Trump supporters into liking and sharing his articles. He runs several other websites, including potatriotpost.us, dailyworldupdate.us and nofakenewsonline.us. Sometimes he is also known under his nickname "Busta Troll". A second man working on the sites is John Prager as revealed in this earlier story we wrote.
Articles from Blair's sites frequently get copied by "real" fake news sites who often omit the satire disclaimer and any other hints the stories are fake. Blair has tried to get these sites shut down in the past but new ones keep cropping up and he keeps knocking them down.
If you see one of his stories on a site that does not contain a satire disclaimer, assume it is fake news. If you do see the satire disclaimer it is of course also fake news.
NewsGuard, a company that uses trained journalist to rank the reliability of websites, describes trumpbetrayed.us as:
A website claiming to be satirical that publishes fabricated stories, run by Christopher Blair, a known purveyor of disinformation, that published fake stories about Senator John McCain after he passed away.
According to NewsGuard the site does not maintain basic standards of accuracy and accountability. Read their full assessment here.
We wrote about trumpbetrayed.us before, here are our most recent articles that mention the site: