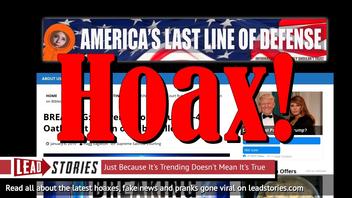 Did the U.S. Supreme Court rule five to four that oaths not taken on the bible are illegal? No, that's not true. The story was published by a liberal satire website that tries to educate gullible Trump supporters and Republicans about the need to actually click and read links before sharing or liking them in order to avoid being embarrassed by fans of the site later. All the events described in the article are not real. Despite this it went massively viral.
The story originated from an article published by America's Last Line of Defense on January 6, 2019 titled "BREAKING: Supreme Court Rules 5-4: Oaths Not Taken on Bibles Illegal" (archived here) which opened:
The Supreme Court split in the typical way we can get used to it splitting this morning in a 5-4 decision to nullify Congressional Oaths taken on the Quran and other mythical texts. According to Chief Justice Roberts, the law is clear. He wrote in his opinion:

"Article 3 of the US Constitution describes the formation, election and oath taking process specifically, with the right hand to God and the left on the Holy Scripture. Because the writers and signers of that document were Christians of the 18th Century, we can deduce very simply that they were Christians and that Christian references should be taken literally. God is in the Constitution three more times than George Washington and twice more than Benjamin Franklin.

The ruling is that if the newly-elected do not take their proper oaths to a proper God, they won't have any authority to vote for their constituents, who may want to consider impeaching and replacing them."
Users on social media only saw this title, description and thumbnail so it would not have been immediately clear the site is satirical in nature:
Their job is to interpret the law for the good of the people.
But the article was posted under the category "SUPREME SATIRICAL COURTING" and the site header has the phrase "Information you probably shouldn't trust" in it.
The words "mythical texts" linked to an image of the bible and the description of the third article of the U.S. constitution given in the article has no bearing on what it actually says:
Article III
Section 1.
The judicial power of the United States, shall be vested in one Supreme Court, and in such inferior courts as the Congress may from time to time ordain and establish. The judges, both of the supreme and inferior courts, shall hold their offices during good behaviour, and shall, at stated times, receive for their services, a compensation, which shall not be diminished during their continuance in office.

Section 2.
The judicial power shall extend to all cases, in law and equity, arising under this Constitution, the laws of the United States, and treaties made, or which shall be made, under their authority;--to all cases affecting ambassadors, other public ministers and consuls;--to all cases of admiralty and maritime jurisdiction;--to controversies to which the United States shall be a party;--to controversies between two or more states;--between a state and citizens of another state;--between citizens of different states;--between citizens of the same state claiming lands under grants of different states, and between a state, or the citizens thereof, and foreign states, citizens or subjects.

In all cases affecting ambassadors, other public ministers and consuls, and those in which a state shall be party, the Supreme Court shall have original jurisdiction. In all the other cases before mentioned, the Supreme Court shall have appellate jurisdiction, both as to law and fact, with such exceptions, and under such regulations as the Congress shall make.

The trial of all crimes, except in cases of impeachment, shall be by jury; and such trial shall be held in the state where the said crimes shall have been committed; but when not committed within any state, the trial shall be at such place or places as the Congress may by law have directed.

Section 3.
Treason against the United States, shall consist only in levying war against them, or in adhering to their enemies, giving them aid and comfort. No person shall be convicted of treason unless on the testimony of two witnesses to the same overt act, or on confession in open court.

The Congress shall have power to declare the punishment of treason, but no attainder of treason shall work corruption of blood, or forfeiture except during the life of the person attainted.
The site comes with a clear satire disclaimer at the bottom of each article:
sat·ire ~ˈsaˌtī(ə)r
noun
the use of humor, irony, exaggeration, OR ridicule to expose and criticize people's stupidity or vices, particularly in the context of contemporary politics and other topical issues.
If you disagree with the definition of satire or have decided it is synonymous with "comedy," you should really just move along.
The owner and main writer of the site is self-professed liberal troll Christopher Blair, a man from Maine who has made it his full time job to troll gullible conservatives and Trump supporters into liking and sharing his articles. He runs several other websites, including potatriotpost.us, dailyworldupdate.us and nofakenewsonline.us. Sometimes he is also known under his nickname "Busta Troll". A second man working on the sites is John Prager as revealed in this earlier story we wrote.
Articles from Blair's sites frequently get copied by "real" fake news sites who often omit the satire disclaimer and any other hints the stories are fake. Blair has tried to get these sites shut down in the past but new ones keep cropping up and he keeps knocking them down.
Blair and his operation were profiled by the Washington Post on November 17, 2018 by Eli Saslow:
November 17 The only light in the house came from the glow of three computer monitors, and Christopher Blair, 46, sat down at a keyboard and started to type. His wife had left for work and his children were on their way to school, but waiting online was his other community, an unreality where nothing was exactly as it seemed.
If you are interested in learning more about Blair and the history of his sites, here is something to get you started:
STORY UPDATED: check for updates below. Yesterday Eli Saslow at the Washington Post wrote a fantastic article about Christopher Blair, a man from Maine who has been trolling conservatives and Trump supporters online for years and occasionally even made a living out of it.
If you see one of his stories on a site that does not contain a satire disclaimer, assume it is fake news. If you do see the satire disclaimer it is of course also fake news.
NewsGuard, a company that uses trained journalist to rank the reliability of websites, describes wearethellod.com as:
A site that publishes false stories and hoaxes that are often mistaken for real news, part of a network named America's Last Line of Defense run by hoax perpetrator Christopher Blair.
According to NewsGuard the site does not maintain basic standards of accuracy and accountability. Read their full assessment here.
We wrote about wearethellod.com before, here are our most recent articles that mention the site: