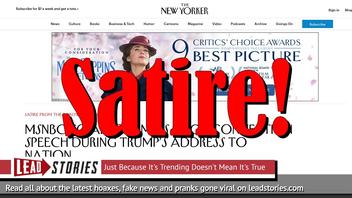 Is MSNBC planning to air an old Obama speech during President Trump's immigration speech scheduled for tonight? No, that's not true: the story was just a bit of satire from the Borowitz report mocking the recent controversy over if the major networks should air the speech live or not.
The story originated from an article published by The Borowitz Report on January 8, 2019 titled "MSNBC to Air Obama's 2004 Convention Speech During Trump's Address to Nation" (archived here) which opened:
NEW YORK (The Borowitz Report)--MSNBC will preëmpt Donald Trump's national address on Tuesday night by airing Barack Obama's keynote address at the 2004 Democratic National Convention, network officials have confirmed.

Harland Dorrinson, an MSNBC spokesperson, said that the network elected to air the Obama speech "in order to best serve our audience."

"Based on the data gathered by our research department, the number of MSNBC viewers who were planning to watch the Trump speech was approximately zero," Dorrinson said. "This seemed like a better way to go."
Users on social media only saw this title, description and thumbnail:
"We'll air it all night if we have to," a network spokesperson said.
The story actually appeared in the satire column of The New Yorker ("The Borowitz Report" by Andy Borowitz) which was acquired in 2012 by the magazine. Although the section with the columns and all the articles in it are clearly marked as satire the stories frequently get confused for real news by people who only see the title and summary on social media and who assume it must be real because the link goes to the actual website of The New Yorker.
In part to combat this the main page of The Borowitz Report comes with a clear heading that simply states:
Satire from the Borowitz Report

The actual speech can be watched via this livestream from PBS:
To be safe, whenever you see a link that goes to any article on the "newyorker.com" website, always check if the rest of the link says "/humor/borowitz-report/" somewhere. If it does, don't believe a thing you read...
NewsGuard, a company that uses trained journalist to rank the reliability of websites, describes newyorker.com as:
The website of the celebrated weekly magazine The New Yorker. The site publishes news, reviews, investigative reports, and critical commentary about international politics, culture, and New York City events, as well as poetry, fiction, videos and podcasts, satire, and cartoons. Its political content is usually liberal in tone and outlook.
According to NewsGuard the site can generally be trusted to maintain journalistic standards. Read their full assessment here.
We wrote about newyorker.com before, here are our most recent articles that mention the site: