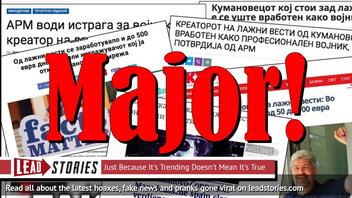 One of the Macedonians identified by Nieuwscheckers and Lead Stories to be behind a network of sites publishing hate-mongering fake news turns out to be a major in the military intelligence service of Macedonia. Another one is an active-duty soldier. Their activities are currently being investigated by the Ministry of Defense. A third one is still employed as a police inspector according to Macedonian media coverage. Authorities in the Balkan country announced further investigations would be launched after the findings we published about the "Kumanovo-connection" were picked up by Macedonian media. Meanwhile dozens of websites from the network and hundreds of fake Twitter-accounts promoting them have gone down.
By Peter Burger and Maarten Schenk
A Macedonian network of fake news sites reached millions of Americans (and others) over the past two years according to research published by Lead Stories two weeks ago in collaboration with Dutch fact checking outfit Nieuwscheckers. To make money from advertising clicks the operators behind it used fake Facebook and Twitter accounts to spread fake stories inciting hatred against muslims and migrants. In itself this is not illegal (even though it violates the terms of service of several of the services they were using) but many of the stories were blatantly copied from other sources without permission from the original authors and this is definitely against the law.
A year ago Lead Stories already unmasked army officer Marjan Zlatanovski as an operator running such sites. He readily admitted making some money on the side running such sites together with his wife. His employer, the Macedonian Ministry of Defense, did nothing with this information for nearly a year and back then didn't even respond when asked to confirm if Zlatanovski really worked for them.
After renewed scrutiny by Macedonian media an investigation has now been opened into his online activities. Zlatanovski indeed works as a major for the military intelligence service a spokesperson of the ministry confirmed to us recently. A second website operator and acquaintance of Zlatanovski named Slagan Bojkovski is still a soldier in the army according to a spokesperson, even though Bojkovski told us earlier he hadn't worked for the army for a year.
A third one, Viktor Kolevski, also hailing from the town of Kumanovo like the first two, is a police inspector according to his LinkedIn-profile. Even though he claimed to use that he now worked for himself the Macedonian media say he still works for the police. A spokesperson of the Ministry of the Interior would only confirm to us that a person by that name indeed was on their payroll.
Implosion
The network, which used to consist of 75 websites, has since disappeared from the internet. After we confronted the owners with our findings all fifty websites that were still active at the time suddenly went offline, taking down thousands of hyperbolic anti-islam and pro-Trump stories. Also gone: hundreds of fake Twitter accounts, a handful of fake Facebook profiles and the personal Facebook account of Bojkovski.
In the news
Macedonian media outlets paid substantial attention to the case after Macedonian press agency MIA picked up the story from Belgian and Dutch media sources.
Додека Македонија се стреми кон НАТО и ЕУ, постојано вложува во сајбер-одбраната, а Владата повикува на организиран фронт за борба против лажните вести, деновиве имаше контрадикторна ситуација, во која лице вработено во АРМ се сомничи дека е промотор на сајтови за лажни вести во кои се објавуваат расистички, невистинити и многу често незаконски копирани содржини ...
The ARM (Army of the Republic of Macedonia) is waiting for "specialized services" to conduct an investigation about the soldier Slagan Bojkovski, referred to as a creator of fake news. Depending on what the investigation will reveal, there could be disciplinary action against the professional soldier for damaging the reputation of the Army, which, in ...
 22/01/2019 07:59  1,457 Прегледи Ловецот на лажни вести кој ја откри кумановската мрежа, Мартен Схенк, во интервју со дописничката на МИА во Брисел, раскажува како успеал да ги пронајде членовите. Тој вели дека не станува збор за организиран бизнис од страна на Русија, туку дека Русите опортунистички ги користат лажните вест кои се појавуваат.
It even made national television in Macedonia:
We will keep an eye on the case and report on any further developments.