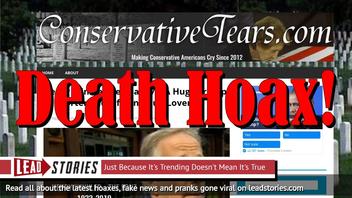 Did Henry Winkler just die at the age of 77? No, that's not true, the actor best know for playing "The Fonz" is not dead. A death hoax about him was published by a liberal satire website that tries to fool conservatives into thinking various Trump-supporting celebrities are dead (even if they don't actually support him).
The story originated from an article published by Conservative Tears on January 31, 2019 titled "Henry Winkler Dead at 77 - A Huge Trump Supporter and Lifelong Gun Lover" (archived here) which opened:
Henry Beauregard Winkler, also fondly known as Arthur Fonzarelli -- or the Fonz -- has passed away quietly at his home in Queens. A lifelong member of the NRA and avid Trump Supporter, Winkler spent the bulk of his life alone, reading, making movies, and creating a relationship with God some would never see.

According to family spokesman, Art Tubolls:

"Henry was a loner. He has numerous cousins, nieces and nephews, but his first love was always God and hunting. He spent more time with Charlton Heston in the 80s than any one man should. Last year he spent nearly 4 months in a tent on Ted Nugent's canned hunt farm. He really loved getting back to nature."
Users on social media only saw this title, description and thumbnail:
The Fonz has jumped that great white shark in the sky.
Winkler's real middle name is Franklin, not Beauregard. And "Art Tubbols" is just an anagram for "Busta Troll", the creator of the site.
If you want to learn about Winkler's politics, here's a long interview with him in which he recounts making an ad for and endorsing President Obama and speaking for Hillary Clinton:
Tue, Sep 5, 2017 | By Hugh Hewitt I sat down with Henry Winkler last week for 40 minutes of political and media/culture chat. MSNBC aired the tightly edited 11 minute segment Saturday, but the entire conversation was fascinating to me and I hope you: Audio: 09-02hhs-winkler Transcript: HH: Henry Winkler, thank you for talking to me today.
NewsGuard, a company that uses trained journalist to rank the reliability of websites, describes conservativetears.com as:
A hoax website that publishes false stories about celebrity deaths.
According to NewsGuard the site does not maintain basic standards of accuracy and accountability. Read their full assessment here.
The about page of the site also explains everything on the site is false:
ConservativeTears.com is a member of the America's Last Line of Defense network of satire and parody. Do pay attention to the following message, which may or may not have too many words for you to comprehend at this very difficult and trying time:

America's Last Line of Defense is a whimsical playland of conservative satire.

Before you complain and decide satire is synonymous with "comedy":

sat·ire
ˈsaˌtī(ə)r
noun
The use of humor, irony, exaggeration, or ridicule to expose and criticize people's stupidity or vices, particularly in the context of contemporary politics and other topical issues.

Everything on this website is fiction. It is not a lie and it is not fake news because it is not real. If you believe that it is real, you should have your head examined. Any similarities between this site's pure fantasy and actual people, places, and events are purely coincidental and all images should be considered altered and satirical. See above if you're still having an issue with that satire thing.

~Christopher Blair, AKA Busta Troll
We wrote about conservativetears.com before, here are our most recent articles that mention the site: