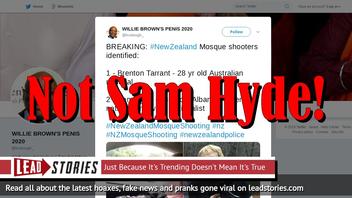 Was Sam Hyde one of the gunmen who opened fire at a Christchurch, New Zealand mosque on March 15, 2019? No, that's not true: unfortunately the shooting did happen, with latest reports putting the number of dead at 48, but Sam Hyde was not the shooter.
Here is a roundup of the latest news about the shooting:
Gunmen opened fire at mosques in Christchurch and reports of casualties are coming in. READ MORE * Live updates: Gunmen storm Christchurch mosques * Witness to mosque shooting: 'The gun shots ...
As with every tragedy of this type, online trolls quickly started posting messages blaming comedian Sam Hyde, for example tthis tweet (archived here):
BREAKING: #NewZealand Mosque shooters identified:

1 - Brenton Tarrant - 28 yr old Australian national

2 - Sam Hyde - 38 yr old Albanian-American national and white nationalist#NewZealandMosqueShooting #nz #NZMosqueShooting #newzealandpolice pic.twitter.com/qiABQO9DNx

-- WILLIE BROWN'S PENIS 2020 (@trudough_) March 15, 2019
Blaming right-wing comedian Sam Hyde of being the suspect after a mass shooting is a strange in-joke that has been going on for years.
Sam Hyde is not the perpetrator of a mass shooting. But whenever a shooter strikes and the news reports casualties, trolls race to name Hyde as the culprit. In the worst cases, authorities have been tricked into giving Hyde's name to the press.
Here is more information about Sam Hyde and the infamous "Sam Hyde Is The Shooter" meme originally propagated by 4chan trolls:
Sam Hyde is an Internet comedian who co-founded the sketch comedy group Million Dollar Extreme and rose to viral video fame after staging a satirical TEDx talk about wonders of the future at Drexel University in October 2013.
The actual shooter in this case seems to have been somone named Brenton Tarrant according to local media:
The dossier seemingly compiled by the self-described terrorist who shot dead Muslim worshippers in Christchurch reveals an obsession with violent uprisings against Islam. The shooter, identifying himself as Brenton Tarrant, a 28-year-old born in Australia, characterises the country of his birth as little more than an outpost of Europe with a propensity for political apathy.