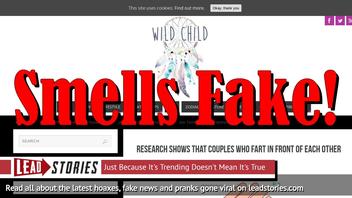 Does research show that couples who fart in front of each other tend to stay together longer? No, that's not true: There is no such scientific study of the impact of proximity, intensity or frequency of the release of spousal flatulance on the longetivity of relationships. Recent articles widely shared on social platforms that promote the benefits of marital farting include no attribution to research and only reference marriage counselors who have not studied the matter.
The story, which doesn't pass our smell test, originated from an article published on March 11, 2019 titled "Research Shows That Couples Who Fart In Front Of Each Other Tend To Stay Together Longer" (archived here) which opened:
Believe it or not, farts are the key to a happy, long lasting relationship.

We've got some good news for partners who fart in front of each other

If you fart in front of your partner, we've got good news for you because it looks like you two will be very happy for a long time. Naaawwwww!
Users on social media only saw this title, description and thumbnail:
A Huffington Post story published on March 20, 2018, apparently encouraged the stinky writing. That report was accurate in that it was a lifestyle piece quoting marriage counselors, but not claiming there was actual research. This morphed into copycat reports that added the false scientific angle.
Lead Stories could not find any research on the impact of spousal flatulance on relationships, although several of the stories -- including a 2017 article on MensHealth.com titled "Couples That Fart Together, Stay Together, Says Research" -- reference a study commissioned by the online dating service eHarmony. While the articles do not link to the study, it may be reference research published by the Proceedings of the National Academy of Sciences of the United States of America studying the differences in "marital satisfaction and break ups" between couples who meet online and offline. Farting was a minor point in the research, which was based only on the experiences of eHarmony respondents. Forbes published an analysis calling the validity of that study into question.
TheWildChild.co.za says in a disclaimer page that its articles are "based on the opinions and scholarship of the authors. This site is intended for educational and commentary purposes only, both of which are strictly protected by Free Speech. The Wild Child is not responsible for the opinions or content written by its writers. The information on this website is not intended to replace your relationship with a qualified health care professional and is not intended as medical advice."
We wrote about thewildchild.co.za before, here are our most recent articles that mention the site: