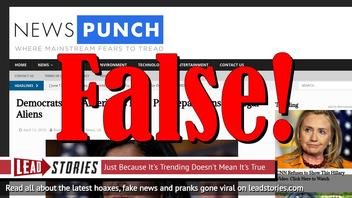 Did Democrats say that American taxpayers must pay reparations to illegal aliens? No, that's not true: The claim is a distortion of a statement made by a member of congress in reference to children separated from parents after arriving at the border to apply for asylum in the United States. Rep. Pramila Jayapal said the federal goverment must "make reparations" for the "lasting trauma for thousands of children," and she was not referring to all "illegal aliens" as inferred by the headline and the body of the accompanying story.
Editor's Note: NewsPunch updated their story to comply with Lead Stories' objections, adding a corrections note and clarifying that the Democrats were only referencing the separated families and that there are questions about President Trump's assertion that the family separation policy was started by President Obama. Several other copycat websites still maintain the false versions.
The story originated from an article published on April 12, 2019 titled "Democrats Say Americans Must Pay Reparations to Illegal Aliens" (archived here) which opened:
House Democrats have gone on record demanding American taxpayers pay reparations to illegal aliens who have been arrested after illegally crossing the border.

Rep. Pramila Jayapal appeared on MSNBC to talk about her interaction with Acting Attorney General Matthew Whitaker during a House judiciary hearing, where she asked him about family separations.

According to Jayapal, those who violate the law to illegally enter the United States should be given special treatment at the expense of the American taxpayer.
Users on social media only saw this title, description and thumbnail:
Rewarding criminality is a slippery slope to outright barbarism
Why is this story false? Let's start with what Rep. Jayapal actually said. The Washington State Democrat was appearing on MSNBC on February 8, 2019 to discuss her interaction with then-Acting Attorney General Matthew Whitaker during his testimony to the House Judiciary Committee earlier that day. Payapal had challenged Whitaker about the government's effort to reunite children separated from relatives as ordered by a federal judge. She told host Joy Reid:
If we all don't have real passion, real committment to figuring out what happened and making reparations, the U.S. should make reparations to what we have done to these families.
Rep. Payapal shared video of her TV appearance in a tweet, along with the message:
I'm proud of my passion, Mr. Whitaker. We all should show real passion and a real commitment to fixing what was done to these families and these children. This is lasting trauma for thousands of children--we must make reparations. pic.twitter.com/hceesi4xk5

-- Rep. Pramila Jayapal (@RepJayapal) February 9, 2019
Clearly, Jayapal was only referring to those families who had been separated wrongly (as determined by a federal judge.)
U.S. District Judge Dana Sabraw said in a June 2018 ruling that the family separations violated due process:
...the facts set forth before the court portray reactive governance -- responses to address a chaotic circumstance of the government's own making. They belie measured and ordered governance, which is central to the concept of due process enshrined in our Constitution.
Judge Sabraw initially ordered the reunification of more than 2,000 families, and he later expanded it to include others. You can read Judge Sabraw's decision here.
Reparations could take many forms other than payments, including mental health counseling to help the children deal with the trauma. The American Civil Liberties Union has requested such help in the same lawsuit that resulted in the court order to end separations. A chief reparation would be reunifiction with a child's family, something the government has already been ordered to do.
The U.S. State Department has an official definition of reparations, which you can read in full on its website here:
Reparation (or "reparative justice" as it is sometimes called) is a key element
of providing justice to victims of serious human rights abuses or atrocities.
Reparation programs form part of a transitional justice framework that focuses on
acknowledging the needs of victims for redress and seeks to address the consequences
as well as the causes of violations in material and symbolic ways.
The misleading story also refers to another Democrat:
Rep. Joe Crowley (D-N.Y.) also believes illegal immigrants should receive reparations for their treatment after illegally crossing the U.S. border -- since children were separated from lawbreaking adults as is customary in the U.S.
Again, the writer conflates the children separated from their families at the border -- whom a federal judge acknowledged suffered from a wrong government action -- with all illegal aliens. As you can see in the video below, Rep. Crowley was only referring to "compensation" for the separated families.
The damage that has been done to these children will be life-long -- to these family units will be life-long, as well. And in fact, I -- I suggest that they need to be compensated for what this administration did to them. But the first form of compensation needs to be the full reunification of these families.
The report also uses Rep. Crowley's words to make another false statement, one that has also been made by President Donald Trump.
Despite the fact the policy was in place during the Obama era, Rep. Crowley tried to blame President Trump, claiming it is the most "reprehensible thing" he has witnessed in his 20 years in the House.

"To have these children depart, separated, is one of the most reprehensible things I've ever witnesses in my 20 years in the House of Representatives." Crowley said on Wednesday.

Apparently Rep. Crowley wasn't paying attention during the Obama years. But like all Democrats, that doesn't stop him blaming Trump for everything.
The practice of separating children from their parents when they arrive at the U.S. southern border to request asylum was begun during the Trump administration, not under President Barack Obama. It followed an April 6, 2018 announcement by then-U.S. Attorney General Jeff Sessions of "a new 'zero-tolerance policy' for offenses under 8 U.S.C. § 1325(a), which prohibits both attempted illegal entry and illegal entry into the United States by an alien." Note that the Justice Department called it a "new" policy. You can read the Justice Department's official announcement here.
The Bipartisan Policy Center published this analysis in June 2018 explaining that while previous administrations did separate some families at the border, it was a far smaller number and for specific circumstances:
Previous administrations used family detention facilities, allowing the whole family to stay together while awaiting their deportation case in immigration court, or alternatives to detention, which required families to be tracked but released from custody to await their court date. Some children may have been separated from the adults they entered with, in cases where the family relationship could not be established, child trafficking was suspected, or there were not sufficient family detention facilities available. Both the Obama and Trump administrations have tried to establish more capacity to detain families and children, rather than releasing them until their hearing date. However, the zero-tolerance policy is the first time that a policy resulting in separation is being applied across the board.
While the publisher of this false report attempted to portray the call for reparations for separated families as a wide call by all Democrats for financial payments to all "illegal aliens," there are no indications that such a debate is under way. A Google news search of the term "reparations" yields a number of articles on the debate about paying reparations to descendants of American slaves and nothing relating a call for reparations paid to "illegal aliens."
NewsPunch (formerly YourNewsWire) has published several hoaxes and fake news articles in the past so anything they write or publish should be taken with a large grain of salt. Their Facebook page "The People's Voice" even lost its verification checkmark according to a report from MMFA.
The Terms of Use of the site (archived here, still referencing YourNewsWire) also make it clear they don't really stand behind the accuracy of any of their reporting:
THE PEOPLE'S VOICE, INC. AND/OR ITS SUPPLIERS MAKE NO REPRESENTATIONS ABOUT THE SUITABILITY, RELIABILITY, AVAILABILITY, TIMELINESS, AND ACCURACY OF THE INFORMATION, SOFTWARE, PRODUCTS, SERVICES AND RELATED GRAPHICS CONTAINED ON THE SITE FOR ANY PURPOSE.
The site was profiled in the Hollywood reporter where it was described as:
Your News Wire, a 3-year-old website of murky facts and slippery spin, is published by Sean Adl-Tabatabai and Sinclair Treadway -- a Bernie Sanders supporter in 2016 -- out of an apartment in L.A.'s historic El Royale.
RationalWiki described it as:
YourNewsWire (styled as YourNewsWire.com[1]) is an Los Angeles-based clickbait fake news website known for disseminating conspiracy theories and misleading information, contrary to its claimed motto ("News. Truth. Unfiltered").[1]
A while ago we reported that YourNewsWire had rebranded itself as NewsPunch by changing its domain name in an apparent effort to evade filtering/blocking.
NewsGuard, a company that uses trained journalist to rank the reliability of websites, describes newspunch.com as:
A website, formerly known as YourNewsWire.com, that regularly publishes false information and far-right conspiracy theories.
According to NewsGuard the site does not maintain basic standards of accuracy and accountability. Read their full assessment here.
We wrote about newspunch.com before, here are our most recent articles that mention the site: