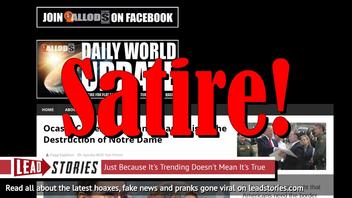 Did U.S. Reps. Ocasio-Cortez and Ilhan Omar praise the destruction of the Cathedral of Notre Dame? No, that's not true: It is a satirical story produced by a well-known hoax and satire publisher. The quotes from these members of congress are fake.
The story originated from an article published on April 16, 2019 titled "Ocasio-Cortez and Ilhan Omar Praised the Destruction of Notre Dame" (archived here) which opened:
The two women who have turned Congress into a circus were caught laughing and joking while the Notre Dame Cathedral burned yesterday, ultimately praising the destruction of the building in comments to the media. According to our reporter in the field, Bluto Larst:

"AOC and Omar were sitting on a couch in a resting area just laughing it up and having a good time. We approached them and asked them what they were laughing at. They said something about an unrelated issue and then pretended they hadn't heard about the church. They both scurried away to 'find out what happened.'
Users on social media only saw this title, description and thumbnail:
Have they no shame?
Fictional reporter Bluto Larst continued:
I caught up with them later and AOC said, "Maybe they should consider that...God has other plans sometimes and that the site...would make a lovely park.
Omar said she's glad the Catholics are 'paying for their coverups.' She said as a Muslim, she is 'relieved' that no Muslamics were hurt."
Rep. Omar posted a tweet about the cathedral fire expressing her thoughts.
Art and architecture have a unique ability to help us connect across our differences and bring people together in important ways. Thinking of the people of Paris and praying for every first responder trying to save this wonder.

-- Ilhan Omar (@IlhanMN) April 15, 2019
NewsGuard, a company that uses trained journalist to rank the reliability of websites, describes dailyworldupdate.us as:
A news site that publishes false stories and hoaxes that are often mistaken for real news. The site is part of a network run by hoax perpetrator Christopher Blair.
According to NewsGuard the site does not maintain basic standards of accuracy and accountability. Read their full assessment here.
We wrote about dailyworldupdate.us before, here are our most recent articles that mention the site: