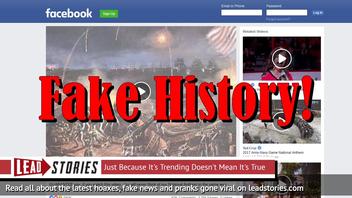 Is the "Our National Anthem" video produced by Robert Surgernor the true story of "The Star Spangled Banner"? No, that's not true: The video posted and shared many times on social platforms is filled with major historical inaccuracies and is about as fictional as a "Game of Thrones" episode. For example, it claims the song was written during the American Revolution, although it was penned more than three decades later in September 1814 -- in the final months of the War of 1812.
The most-viewed version of the video is a post (archived here) published on July 4, 2014, under the title "Our National Anthem." The narrator is apparently minister David C. Gibbs Jr. The Surgernor post includes the message "Here is a video I produced several years ago that tells the true story of our National Anthem. I GUARANTEE you, if you watch this video, you will never think of our National Anthem in the same way again. May God bless America on our Independence Day!" The video opened:
(Written text on screen) We guarantee that you will NEVER feel the same way again when you sing this song at a sporting event after you hear this story!

(Man's voice) There was a lawyer once, his name was Francis Scott Key. He penned a song that I'm sure you are aware of, you've seen it. It's in most hymnals throughout our churches. It's called the 'National Anthem.' It is our song as an American. We go, however, to a ball game, we stand in our church services, and we sing the words of that song and they float over our minds and our lips and we don't even realize what we're singing. Most of us have memorized it as a child, but we've never really thought about what it means. Let me tell you a story.
This is what it looks like on social media:
The true story of the Star Spangled Banner is inspiring, as it was written after a key battle near the end of the War of 1812. It is baffling why anyone would fabricate historical facts that would then be assumed to be authentic. Please read this story before you angrily message this writer with accusations he is anti-American. At Lead Stories, we are pro-fact. Rewriting history is a dangerous thing, although the consequences of digesting this particular mythology may not lead to destruction. It can cause a student to incorrectly answer an American history test question and might make you look foolish when discussing history with better-informed friends. Now, here are the most obvious ways this video is filled with fake history:
Francis Scott Key was a lawyer in Baltimore.
No, Key was a lawyer in Washington, D.C. While the home where he lived in 1814 is no longer standing, there is a monument at its former site of 34th and M Street.
The colonies were engaged in vicious conflict with the mother country, Britain. Because of this conflict and the protractedness of it, they had accumulated prisoners on both sides. The American colonies had prisoners and the British had prisoners and the American government initiated a move, they went to the British and they said 'Let us negotiate for the release of these prisoners.' They said 'We want to send a man out to discuss this with you.' They were holding the American prisoners in boats about a thousand yards offshore. And they said 'We want to send a man by the name of Francis Scott Key. He will come out and negotiate to see if we can make a mutual exchange.'
First, there were no "colonies" in 1814. There were 15 American states. The video implies this was during the American Revolution, which began in 1775 (although some argue the first battle was fought in October 1774) and officially ended with the signing of the Treaty of Paris on September 3, 1783.
Also, there were no large groups of American prisoners held in the cargo hold of boats. Key was not sent by the American government to negotiate a prisoner exchange. He traveled to Baltimore only to seek freedom for a friend, Dr. William Beanes, a civilian taken prisoner after he argued with British troops who had tried to plunder his Upper Marlboro, Maryland, home, according to Smithsonian magazine.
On the appointed day in a row boat, he (Key) went out to this boat and he negotiated with the British officials and they reached a conclusion that men could be exchanged on a one-for-one basis. Francis Scott Key, jubilant with the fact that he had been successful, went down below in the boats and what he found was a cargo hold full of humanity, men. And he said 'Men, I've got news for you tonight. You are free.' He said 'Tonight, I have negotiated successfully your return to the colonies.' He said 'You'll be taken out of this boat, out of this filth, out of your chains.'
Key only negotiated for the release of Dr. Beanes, using letters from British soldiers affirming that the Maryland physician had treated wounded British soldiers after a battle. He convinced the British to release Beanes. Since there were no groups of American soldiers in the cargo hold, there was no such conversation between Key and the prisoners. This is made up.
As he (Key) went back up on board to arrange for their passage to the shore, the admiral came and he said 'We have a slight problem.' He said 'We will still honor our commitment to release these men, but it will be merely academic after tonight, it won't matter.' And Francis Scott Key said 'What do you mean?' He said 'Well, Mr. Key,' he said, 'tonight we have laid an ultimatum upon the colonies. Your people will either capitulate and lay down the colors of that flag that you think so much of, or you see that fort right over there, Fort Henry?' He said 'We're going to remove it from the face of the earth.' He said 'How are you going to do that?' He said 'If you will, scan the horizon of the sea,' and as he looked he could see hundreds of little dots and he said 'That's the entire British war fleet.' He said 'All of the gun power, all of the armament is being called upon to demolish that fort. It will be here within striking distance in a matter of about two-and-a-half hours.' He said 'The war is over, these men will be free anyway.'
There is so much wrong with this segment of the narration. The narrator refers to Fort Henry, which did not exist. It was Fort McHenry, a star-shaped fort perfectly situated on the Baltimore Harbor. which was built in 1798.
The British forces did not place "an ultimatum upon the colonies." Remember, there were no colonies, only states, in 1814. The British were intent on removing any threat from Fort McHenry ahead of an assault to capture Baltimore.
As for those "hundreds of little dots," the British naval forces in the area numbered about 50 vessels. Still, only a handful could navigate the shallow waters of the Patapsco River, where Fort McHenry was located. And Key could not "scan the horizon of the sea" since he was on the river, miles from the Chesapeake Bay and the ocean.

He (Key) said 'You can't shell that fort.' He said 'That's, that's a large fort.' He said 'It's full of women and children.' He says 'It's predominantly not a military fort.' He (the British admiral) said 'Don't worry about it.' They said 'We've left them a way out,' and he said 'What's that?' He said 'Do you see that flag way up on the rampart?' He said 'We have told them that if they will lower that flag, the shelling will stop immediately and we'll know that they've surrendered and you'll now be under British rule.'
Fort McHenry was a military post, not a shelter for women and children. It was populated by 1,000 American troops who were armed with dozens of cannons and thousands of pounds of gunpowder. And history records no "way out" offered by signalling surrender with the lowering of the flag. In fact, military posts traditionally lower the American flag at night. It is unclear if that was done during this battle, but the fact that it was raining made it more likely that a smaller storm flag would have flown during much of the bombardment.
Francis Scott Key went down below and told the men what was about to happen. And they said 'How many ships?' He said 'Hundreds." The ships got closer, Francis Scott Key went back up top and he said 'Men, I will shout down to you what's going on as we watch.'
Again, this is an imaginary conversation. There was no group of prisoners held in the cargo hold of the ship from where Key watched the battle. He was on an American truce ship at the time. Also, there were no "hundreds" of ships in the river attacking the fort.
As twilight began to fall and as the haze hung over the ocean as it does at sunset, suddenly, the British war fleet unleashed.
The bombardment began at sunrise, not sunset, and continued for 27 hours.
The admiral came and he said 'Your people are insane.' He said 'What's the matter with them?' He said 'Don't they understand this is an impossible situation?' Francis Scott Key said he remembered what George Washington had said. He said 'The thing that sets the American Christian apart from all other people in the world is he will die on his feet before he will live on his knees.'
George Washington never said that. It is a made-up quote, according to scholars at Washington's presidential library.
All that he (Key) could hear was the men down below praying. The prayer 'God, keep that flag flying where we last saw it.'
There were no "men down below."
The flag pole itself was at a crazy angle, but the flag was still at the top. Francis Scott Key went aboard and immediately went into Fort Henry to see what had happened. And what he found had happened was that flag pole and that flag had suffered repetitious direct hits, and when hit had fallen, but men, fathers, who knew what it meant for that flag to be on the ground, although knowing that all of the British guns were trained on it, walked over and held it up humanly until they died. Their bodies were removed and others took their place. Francis Scott Key said what held that flag at that unusual angle were patriots' bodies.
Whether or not Francis Scott Key actually visited Fort McHenry that day, he would have not seen a stack of "patriots' bodies" holding the flag pole upright. The death toll suffered at the fort was four, with 25 wounded. The fort suffered only light damage from the 1,500 cannonballs, rockets and shells fired upon it.
The origins of the story appear to be a sermon delivered by minister David C. Gibbs Jr. This is a longer version of the same story posted in 2008. While there are some details that differ from the Surgernor video, it is the same story. Click here to see it.
If you want to know the true and remarkable history of the origins of the American national anthem, we suggest you click here for the Smithsonian magazine account or here for another account of the battle of Fort McHenry.
If you want fictional war accounts, we recommend Game of Thrones.