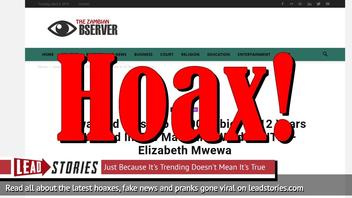 Did a dying nurse confess that she swapped close to 5,000 babies while working in the maternity ward at University Teaching Hospital (UTH) in Lusaka, Zambia between 1982 and 1995? No, that's not true: The Zambian agency that licenses and supervises nurses in the African nation said there is no record of a nurse or midwife with the name given in the report and Lead Stories has concluded that the nurse photo used in the story was published two years earlier on a Columbus, Ohio, nurse's blog. The original publisher of the report has also since called its own story into question with a follow up post.
The story originated from an article (archived here) where it was published on April 3, 2019 under the title "I Swapped Close To 5,000 Babies In 12 Years I Worked In The Maternity Ward At UTH - Elizabeth Mwewa". It opened:
"May God Forgive me for my sins", says a UTH Nurse"

"I used to swap babies at UTH for fun"!, she confessed on Monday in her sick bed. "I have terminal cancer and I know I will be dying soon. I wish to confess my sins before God and before all the affected people especially those who were giving birth at UTH during my service. I have found God, Ia, now born again. I have nothing to hide, In the 12 years I worked in the maternity ward at UTH, I swapped close to 5000 babies", she said.

"If you were born in UTH between the years 1983 to 1995 chances are your parents may not be your biological parents. I had developed a habbit of swapping newly born babies just for fun. So take a good look at your siblings, if for example everyone is light and you are darkie... you are that child and I am really sorry for that"
The short report concluded with an apology from the nurse:
"I know I sinned against God and may he forgve me for that. I am also asking Zambians to forgive me for the evil things I was doing to innocent children. I have caused some faithful couples to divorce after going for DNA Tests. Its now that I have realised I was just being used by a demon to do that. I have causeed many mothers to breastfeed children who are not theirs biologically. I dont want to go to Hell for that, Am really sorry I have sinned alot. Please FORGIVE me", said Sister Elizabeth Bwalya Mwewa.
None of the published accounts reveal the source for the purported confession. There is nothing that would allow a reader to confirm the validity of the report. There are plenty of indications it is fake.
This is the photo published with the story: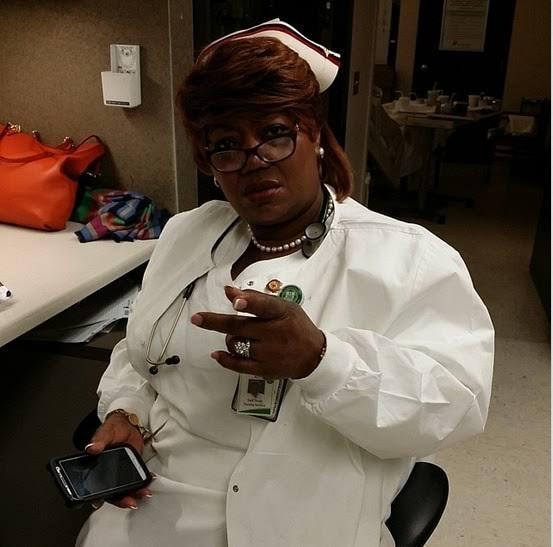 A reverse image search revealed the same photo was posted on a wellness website in 2017 as the profile photo of a nurse in Columbus, Ohio. The appearance of this photo two years earlier is evidence that it is not the purportedly evil, yet contrite, baby-swapping Zambian nurse. The URL of the photo on that site is evidence it was posted in February 2017. See this link. We cannot confirn that the Ohio nurse really exists, but that is not necessary to use the photo as evidence it is not a nurse in Zambia who just confessed to recreational baby swapping.
The sensational story quickly spread around the world, but it was oddly low-key in Zambia. There was no immediate reaction from the ministry of health or the hospital where the massive baby-swapping purportedly happened. There was none of the emotional reaction you might expect to see among those born at the hospital during the 12 years when nurse Mwewa was supposedly on duty.
Lead Stories reached out to the Zambian governmental agency that licenses and supervises nurses for help in fact-checking this story. Our emails and calls were not immediately answered, but a local Zambian news site was successful. The Lusaka Times reported that an investigation found "there is no midwife in the General Nursing Council of Zambia Register by the name of Elizabeth Bwalya Mwewa."
The investigation has also revealed that no midwife by that name ever existed and later on worked in maternity ward at the University Teaching Hospitals (Lusaka Times)
Lead Stories also reached out to the minstry of heatlh and the hospital, however, there has been no response. These organizations also have not posted anything on their websites about the purported baby-swapping scheme.
Another clue that the publisher plays loose with facts is a subsequent report titled "Babies Swapped At Ndola Teaching Hospital." This short article tells about two babies swapped by a confused nurse at another Zambian hospital because the infants shared the same first name. Strangely, the website used the same photo it used for the nurse who purportedly swapped 5,000 babies decades earlier in another hospital.
The initial source of the story has a reputation for publishing questionable content, including a false claim that "Tanzanian President John Magufuli had told men to marry more than one wife as a way to end prostitution," according to the BBC.
Another example of fake news reporting by the Zambian Observer is a report titled "Chinese Open Their Own 13th Police Stations In South Africa." This story was debunked by Africa Check.
Fake news spreads fast when editors ignore warning signs when copying content from other websites. Even the American website MSN.com fell for the baby-swapping hoax, republishing the tall tale.