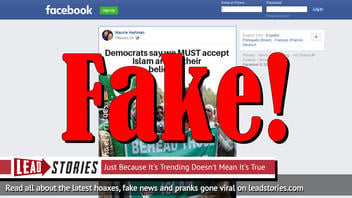 Do Democrats say "We must accept Islam and all their beliefs?" No, that's not true: It is a made up claim in a meme using a photo of Muslims in India protesting an anti-Islam film in 2012 and not of American Democrats holding a banner that demands anyone who insults Islam be out to death by beheading.
The false claim originated with a post (archived here) published as a meme on February 24, 2019 featuring a photo of people holding a banner that said "Behead those who insult Islam." It read:
Democrats say we MUST accept Islam and all their beliefs...

... So when you vote Democrat, you're voting for this!!!!
Users on social media only saw this title, description and thumbnail:
There is no plank in any Democratic Party platform in the United States demanding that Americans "accept Islam and all their beliefs." It is a made up claim. No Democratic leader is on the record making such a demand. There are no proposals by any Democrat to amend the U.S. Constitution to repeal the First Amendment's freedom of religion protection, which would be required if they are to impose a requirement that all American citizens "MUST" accept Islam and "all their beliefs."
Also, the photograph used in the meme to make the point that Democrats are demanding everyone accept Islam or die is actually an image captured by news photograper Sam Panthaky during a protest in Ahmedabad, India on October 2, 2012. Getty Images caption for the photo said:
Indian Muslims hold banners during a demonstration against an anti-Islam film in Ahmedabad on October 3, 2012. A low-budget, US-produced "Innocence of Muslims" movie has incited a wave of bloody anti-American violence in Libya, Egypt, Sudan, Tunisia, Yemen and in several other countries across the Muslim world.
None of the protesters in the photo have been identified as U.S. Democrats.