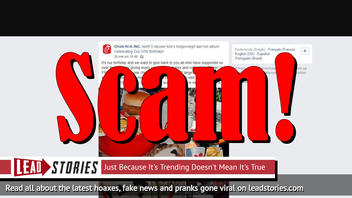 Is Chick-fil-A giving away 2 free spicy or regular chicken sandwiches and 2 large beverages for their 37th birthday? No, that's not true: a scammer created a fake Facebook page impersonating the brand and the link in the viral post with the so-called offer leads to a link that will randomly display advertising or other offers of questionable value.
The story originated from a post (archived here) on a fake Facebook page that read:
It's our birthday and we want to give back to you all who have supported us over the years by giving every person that shares and comments "Done" 2 FREE Spicy or Regular chicken sandwiches and 2 large beverages! We will inbox your coupon by midnight tonight! Remember to visit: http://www.chickfilayear.com/ to make sure your entry is valid! - Chick-fil-A
The post linked to a site at www.chickfilayear.com that was only registered a few weeks ago: https://www.whois.com/whois/chickfilayear.com.
It has nothing to do with the real site of Chick-fil-A or their real Facebook page at https://www.facebook.com/ChickfilA/ (which is not at https://www.facebook.com/Chick-fil-A-INC-54837587235400). Always look at the blue checkmark next to the name if you see a post from a major brand to verify it is the real one.
Also, the Chick-fil-A brand was launched in 1967 which would make it 52 years old, not 37. And the fake Facebook page appears to be run by two people in Vietnam, a long way from their actual headquarters in College Park, Georgia: