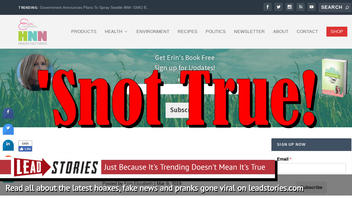 Did experts say that children who eat boogers grow up to be happier and healthier as adults than those who do not pick at their nose and eat the scrappings? No, that's not true: It is a click bait story based on a college professor's joke and it has no scientific research supporting it.
A recent version of the story is an article published by healthnutnews.com on Mar 9, 2019 titled "Experts Say: Kids that eat boogers are happier, healthier adults" (archived here) which opened:
I don't know about you, but I have a distinct memory of the point in my childhood where I consciously considered eating my boogers. I couldn't tell you if I ate them when I was a baby (I probably did, what baby doesn't?) But I remember being a very small child and internally debating the issue. Of course, the authoritative adults in my life strongly discouraged the behavior.

Sure, it may be gross to see kids sticking their fingers up their noses and then directly into their mouths, but is it really that big of a deal? Turns out, it's snot! (See what I did there?

😉)

In fact, could it even be healthy for kids to eat boogers?
Users on social media only saw this title, description and thumbnail:
(Editor's Note: Yep, you read that title correctly. What do you think about this topic? Share your thoughts below.) I don't know about you, but I have a distinct memory of the point in my childhood where I consciously considered eating my boogers. I couldn't tell you if I ate them when I was a ...
While there is nothing in the story addressing how an adult is happier or healthier if they grew up eating the dried mucus from their nose, it does suggest it offers immediate graftification to a booger-chomping child similar to having a "personal candy dispenser on their face."
The main reason kids find it so interesting - and daresay, appealing - to eat their boogers is actually the flavor. Scott Napper, a professor in biochemistry at the University of Saskatchewan explained that boogers actually taste sweet, almost sugary as if they were little candies. From a kid's perspective, who wouldn't be down for a personal candy dispenser on their face?
Lead Stories found Dr. Napper and asked him about his conclusion. He said "unfortunately" was "very familiar" with the article that quoted him. "It went from a joke I made in class one day and the media picked up on it," Dr. Napper told Lead Stories. "There's not truth to any of that." There was no science -- just humor -- behind the statement, he said.
A second professor is quoted in the article as suggesting boogers are "just like medicine."
Boogers are a collection of dust, dirt, bacteria, etc. Ingesting these substances through something as simple as mucus (or boogers) can help your body strengthen its immunity to all sorts of illnesses. Being exposed to different substances and bacteria helps your body get introduced to a number of things without actually contracting anything. It's reasons like this that researchers believe mucus is meant to be ingested. Lung specialist Professor Friedrich Bischinger says that ingesting your boogers or mucus essentially works "just like medicine" in this way.
Lead Stories traced the origin of this quote from Dr. Bishinger included in a 2004 report and now-offline interview by a German website. The same comments, which have no scientific study backing them, have been recycled and used in a number of misleading articles over a 15-year span. It has become so infamously wrong that an Australian science website published an expose titled "The Story Behind the Booger Conspiracy."
As far as we can tell he might be a real doctor in Austria, but he doesn't seem to be an active researcher. We did however find a blog post from 2008 (!) which highlighted exact same quotes attributed to him in 2017. Co-incidentally that blog post also debunks this same story!
As Lead Stories dug deeper into the booger matter, it got worse. In May 2017, there were a series of articles in U.S. and British tabloids that included the bogus Dr. Napper quote and the ancient comment from Dr. Bishinger. The stories joined the two professors together as the purported authors of a new study that concluded booger eating was so healthy that they might develop a synthetic booger gum to be given to children. These stories falsely suggest the new study was published by Napper and Bishinger in the American Society for Microbiology's scientific journal, but no links are provided. The reports also claim that Harvard and MIT scientists were involved in the research. No record of such a study has been found, athough there is one paper linked in some of the reports that relates to the role that saliva plays in protecting teeth from cavities. Read that synopsis here.
While spit may help prevent cavities, we have found no support for the claim that eating boogers as a child will make you a healthier and happier adult.
We wrote about healthnutnews.com before, here are our most recent articles that mention the site: