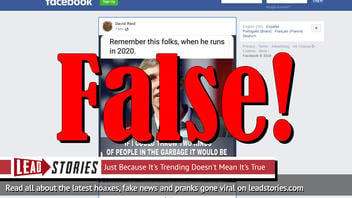 Did Democratic presidential candidate Beto O'Rourke say that the elderly and wounded veterans should be thrown in the trash? No, that's not true: It is a false quote in a meme circulated widely on social platforms that runs counter to the former congressman's record. There is no documentation he ever spoke those words.
The meme, which first surfaced in January 2019 continued to spread in a post (archived here) shared on May 2, 2019 under the title "Remember this folks, when he runs in 2020". It opened:
If I could throw two kinds of people in the garbage it would be the elderly and wounded veterans. When a tool breaks you don't fix it, you throw it in the damn trash
This is what social platform users see:
Not only is there no evidence O'Rourke ever expressed any anti-military veteran sentiment, his official campaign website includes supportive words for them:
If we are truly grateful to the veterans who have fought this country's wars - who came back from Vietnam to a country that did not understand or thank them for their service, who are coming back from wars that are 27 years long in Iraq, 17 in Afghanistan -- then let us not only ensure that we meet every single part of our obligation to them -- their PTSD treated, a roof over the head of every homeless vet, an investment in the treatments and conditions unique to combat and service -- let us also make sure that before we enter yet another war that we have exhausted every single peaceful alternative and that we end the wars that have no definition of victory or strategy to win them and bring these service members back home to their families and their communities.
Lead Stories has identified and fact checked other fake content targeting Beto O'Rouke, including:
Fake News: Young Beto O'Rourke NOT Photographed With "Feminist Athiest Vegan Naturist Ecologist Queer Slut" Written On Body
Fake News: NOT A Picture of Nancy Pelosi, Beto O'Rourke and El Chapo