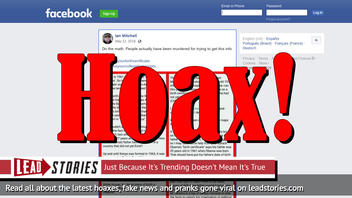 Did Barack Obama's birth certificate use modern names for African-Americans, Kenya, and the birth hospital instead of the names used when the former U.S. president was born in 1961? No, that's not true: Contrary to a letter circulating for years on social media raising questions about the the legitimacy of the long-form birth certificate released by the White House in 2011, it did not use any names not in use in 1961.
The story apparently originated with a viral email written by a lawyer in 2011 raising "4 simple questions" about Obama's birth certificate, and it lives on years later, including a post (archived here) where it was published as a meme shared on May 22, 2018 under the title "Do the math. People actually have been murdered for trying to get this info out...". It opened:
1. Back in 1961 people of color were called 'Negroes.' So how can the Obama 'birth certificate' state he is "African-American" when the term wasn't even used at the time?

2. The Birth certificate that the White House released lists Obama's birth as August 4, 1961 and Lists Barack Hussein Obama as his father? No big deal, Right? At the time of Obama's birth, it also shows that his father is aged 25 years old, and that Obama's father was born in "Kenya, East Africa". This wouldn't seem like anything of concern, except the fact that Kenya did not even exist until 1963, two whole years after Obama's birth, and 27 years after his father's birth. How could Obama's father have been born in a country that did not yet Exist? Up and until Kenya was formed in 1963, it was known as the "British East Africa Protectorate".
Users on social media only saw this title, description and thumbnail:
None of the lawyer's conclusions about his "4 simple questions" are accurate. First, there is no reference on the document to the baby Obama being "African-American." It does list his father, Barack Hussein Obama, as "African" and his mother as "Caucasion." Those were contemporary terms in 1961. See it for yourself below, and if you can spot the "African-American" reference that our staff missed, please email us at [email protected].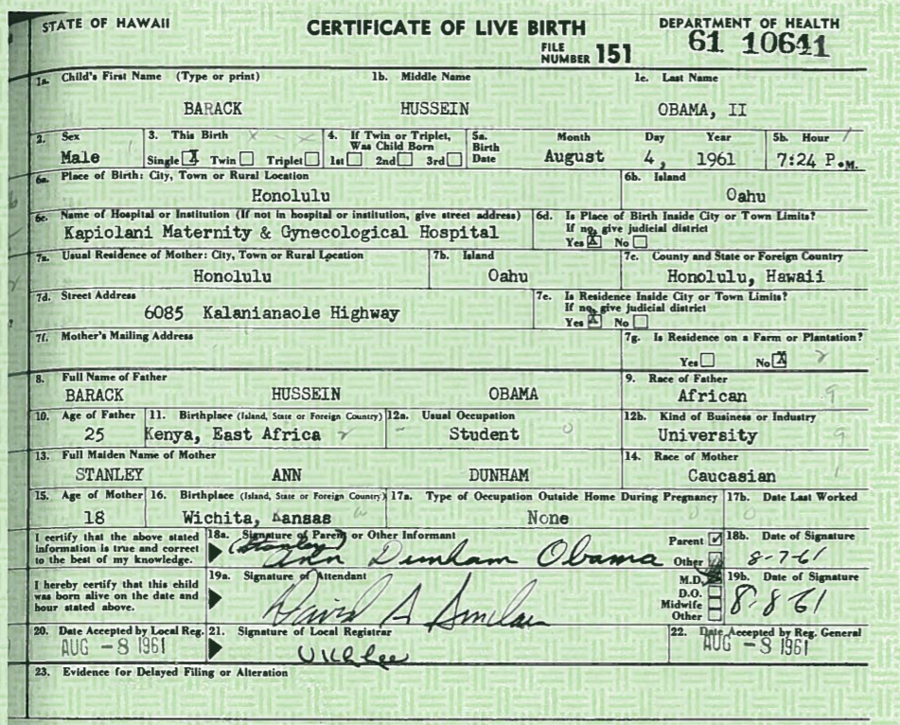 The lawyer contends that listing Obama's father's birthplace as "Kenya, East Africa" is a red flag showing the birth certificate was fake because the name "Kenya" was not used until 1963. Yes, the area was a British colony at the time, but it was named the Kenya Colony. Let's use the lawyer's own source. He wrote "check it below" with a link to Kenya's Wikipedia page, which says:
The modern-day Kenya emerged from a protectorate established by the British Empire in 1895 and the subsequent Kenya Colony, which began in 1920.
Kenya was the name in 1961 for the elder Obama's birthplace and also when he was born there 25 years earlier. This is not an indication from that detail that the document was faked.
The third question raised by the lawyer's letter:
3. On the Birth Certificate released by the White House, the listed place of birth is "Kapi'olani Maternity & Gynecological Hospital".
This cannot be, because the hospital(s) in question in 1961 were called "KauiKeolani Children's Hospital" and "Kapi'olani Maternity Home", respectively. The name did not change to Kapi'olani Maternity & Gynecological Hospital until 1978, when these two hospitals merged. How can this particular name of the hospital be on a birth certificate dated 1961 if this name had not yet been applied to it until 1978?
The lawyer has it backward. The hospital name was not changed to Kapi'olani Maternity & Gynecological Hospital in 1978. It was changed FROM Kapi'olani Maternity & Gynecological Hospital to Kapiolani Medical Center for Women & Children in 1978. It had been called Kapi'olani Maternity & Gynecological Hospital starting in 1931. Again, let's use the same source this lawyer references (only let's not read it in reverse.) The hospital's current parent company website:
Concerned about the welfare of Hawaii's mothers and babies, Queen Kapiolani founded the Kapiolani Maternity Home in 1890. She worked tirelessly traveling the islands holding bazaars, luau and other events and benefits to raise the $8,000 needed. Over the years, the home expanded its services from labor and delivery to providing other health care services for women.

In 1909, Albert and Emma Kauikeolani Wilcox donated the funds to open Kauikeolani Children's Hospital, a hospital for Hawaii's children envisioned by Dr. James R. Judd and Sanford Dole. Concerned that two of every seven infants in Hawaii did not live to see their first birthday, the community rallied to match the Wilcox's gift. In its first full year of operation, the hospital admitted 354 pediatric patients with an average length of stay of 19 days.

In 1978, the Kapiolani Hospital and the Kauikeolani Children's Hospital merged to become Kapiolani Medical Center for Women & Children.

Other debunkers also found a birth certificate for a baby girl born a day after Obama in the same maternity ward. It uses the same name: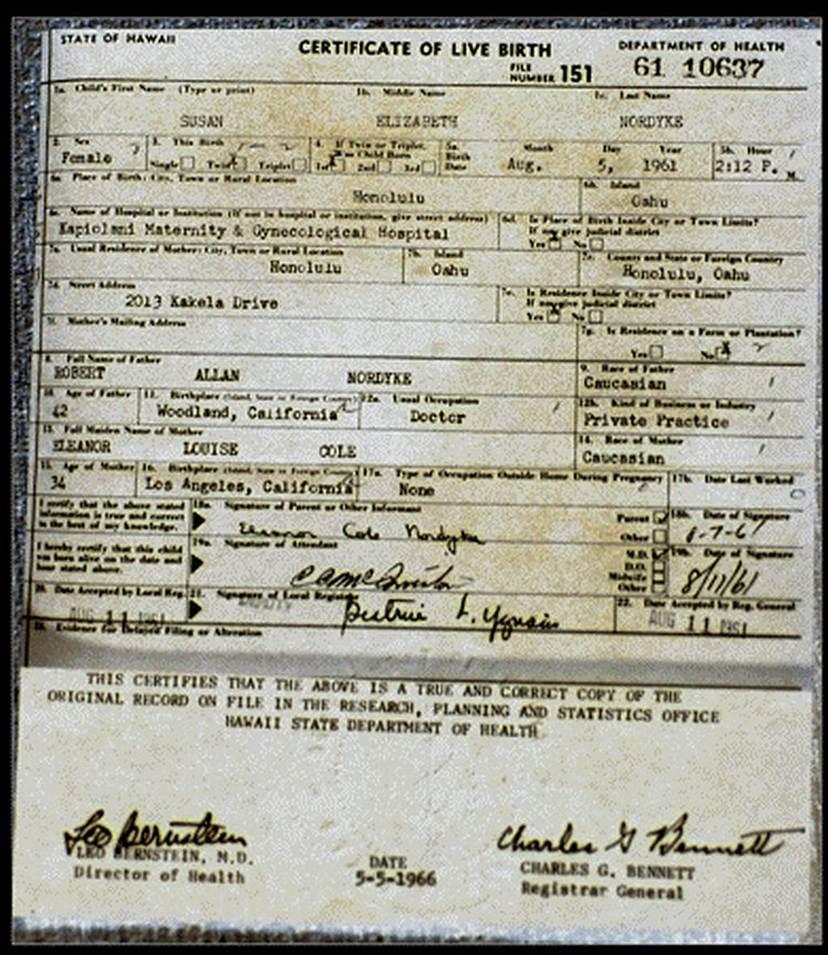 The fourth question actually has no relevance to the authenticity of the birth certificate. It is about references President Obama made about "his father" serving in World War 2:
4. Perhaps a clue comes from Obama's book on his father. He states how proud he is of his father fighting in WW II. I'm not a math genius, so I may need some help from you. Barack Obama's "birth certificate" says his father was 25 years old in 1961 when Obama was born. That should have put his father's date of birth approximately 1936 - if my math holds (Honest! I did That without a calculator!). Now we need a non-revised history book - one that hasn't been altered to satisfy the author's goals - to verify that WW II was basically between 1939 and 1945. Just how many 3 year olds fight in Wars? Even in the latest stages of WW II his father wouldn't have been more than 9 years old. Does that mean that Mr. Obama is a liar, or simply chooses to alter the facts to satisfy his imagination or political purposes?
Yes, Obama also referred to his "father" serving in the war in speeches as president. It was Obama's grandfather, Stanley Dunham, who served in the war. His biological father, who did not raise him, would have been far too young to have served. There are several explanations for this, including that Obama considered Dunham to be his dad, since he served in that role from the time Obama was 10 years old. Perhaps less likely is that Obama just misspoke and said "father" when he meant "grandfather." The lawyer's conclusion that Obama chose "to alter the facts to satisfy his imagination or political purposes," if true, has no impact on the birth certificate controversy.
The "birther" controversy thrives on social media more than 10 years after Obama took office and despite a mountain of evidence to disprove the claim the 44th president was born in Kenya, not Hawaii. Here are three recent debunk articles published by Lead Stories concerning false claims:
Fake News: Kenya: Authorities Did NOT Release Barack Obama's 'Real' Birth Certificate
Fake News: NO Whistleblower: Obama Was NOT Indonesian Citizen & NOT Given Financial Aid As Foreign Student At Occidental College
Fake News: Kenya: Authorities Did NOT Release Barack Obama's 'Real' Birth Certificate