STORY UPDATED: check for updates below.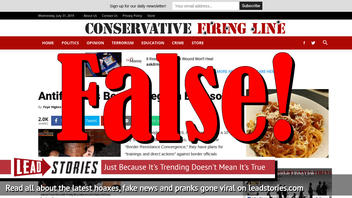 UPDATE Saturday, August 3, 2019: When Lead Stories first published this story on August 1, 2019, our concern was that false reports of a planned violent siege of El Paso could incite a violent reaction. We do not know if the tragic attack at the El Paso mall on August 3 was such a reaction. The purported "manifesto" left by the alleged shooter said the attack was "a response to the Hispanic invasion of Texas." This emphasizes how important our mission is to counter fake reporting.
Is Antifa planning a siege at the U.S.-Mexico border in El Paso in September? No, that's not true: While several left-wing groups have announced a "call to action" gathering for "border resistance" in El Paso, Texas, starting on September 1, 2019, the organizers are "Indigenous and QTPOC (Queer, trans, people of color)" with no indication of Antifa involvement.
The story originated in a tweet from columnist Andy Ngo, who is known for covering Antifa protests, and has been repeated in articles on conservative websites, including an article published by ConservativeFiringLine.com on July 30, 2019 titled "Antifa Plans Border Siege in El Paso which opened:
Beginning on September 1, 2019, Antifa plans to hold a 10 day siege at the Border in El Paso, Texas. Called the "Border Resistance Convergence," they have plans for "trainings and direct actions" against border officials according to the Daily Caller.
Users on social media only saw this title, description and thumbnail:
Antifa plans to have a 10 day siege of the southern border beginning on September 1 and going through September 10. We'll see if it actually works.
The tweet that began this false reporting came from Andy Ngo, described by Buzzfeed as a "conservative media personality," posted on July 29, 2019:
Antifa is leading a "Border Resistance" militancy training tour that will converge on a 10-day siege in El Paso, TX. The promotional image shows border enforcement officers being killed & government property fired bombed. Organizers asking for "white comrades" to pay for others. pic.twitter.com/zwG7iMLMZT

-- Andy Ngo (@MrAndyNgo) July 29, 2019
An article in the Daily Caller, which appeared to be the basis for the other story, took the fear-raising a step higher, suggesting the El Paso gathering would include violence. It is titled "Report: Antifa Plans Terror Campaign And Siege Of El Paso, Texas To Push 'Border Resistance":
The far-left Antifa movement is reportedly planning a terror campaign and siege of El Paso, Texas in an attempt to raise awareness of alleged abuses at the U.S.-Mexico border.

The so-called "Border Resistance" exercise involves a "militancy training tour that will converge on a 10-day siege in El Paso, TX," according to a tweet Monday from reporter Andy Ngo.
Lead Stories reached out to Ngo for details about why he believes the "Border Resistance" gathering is led by Antifa, which is a movement with the stated goals of "abolish capitalism" and "smash fascism." The website Ngo points to in his tweet -- BorderResistance.com -- makes no mention of Antifa. We will update this article with his response when it is received. The website and Facebook page for the event lists these groups as organizers:
Contra Viento y Marea,
Tornillo the Occupation,
Hecate Society,
Casa Carmelita,
Food not Walls and
No Más Muertes/No More Deaths
The organizers made it clear that anyone participating must be ready to follow a leadership made exclusively of native Americans and people of color who are "Queer, trans."
When you come to this convergence you will be in Tigua, Raramuri, Piro, Suma and Manso territory. This convergence is being run by Indigenous & QTPOC (Queer, trans, people of color) leadership and anyone who passively or aggressively disrespects that will be asked to leave.
The organizers listed are not known for affiliation with Antifa, according to Brian Levin, the director of the Center for the Study of Hate and Extremism at California State University, San Bernardino:
I think what Mr. Ngo is doing is conflating these deep-left groups with Antifa. Antifa does not appear to be a direct or primary sponsor, although they may be encouraging it secondarily on various websites and fragmented groups.

While there have been a string of hard left and Antifa crimes, including threats against conservatives, we have not seen any homicides by Antifa in the last two years, although we believe violent activity by Antifa segments may increase if the political season coarsens, as it probably will.

Violent Antifa slivers remains a threat, but the most ascendant movement, by far, are white nationalist far right. But a rising tide would lift all extremists ships.
A Hecate Society spokesperson told Lead Stories "We have no affiliation with Antifa."
We are not offering militancy training. We are having educational workshops about what is happening on the border and how to work better inside of communities. It's not militancy training in any way.
There is also no indication of a "terror campaign." A flyer posted on the event's website that featured a sketched cartoon of arrows being shot at border guards has been removed to avoid a misunderstanding, the spokesperson said. It was a satire not intended to suggest there would be violence at the event, the group said. A Facebook post using the image from July 20, 2019, however remained online.
This is an example of the Hecate Society's activism and message:
NewsGuard, a company that uses trained journalist to rank the reliability of websites, describes conservativefiringline.com as:
A hyperpartisan conservative news and opinion site that publishes conspiracy theories and does not run corrections.
According to NewsGuard the site does not maintain basic standards of accuracy and accountability. Read their full assessment here.
We wrote about conservativefiringline.com before, here are our most recent articles that mention the site:
2019-08-03T20:54:06Z

2019-08-03T20:54:06Z

Updated Aug 3, 2019, after El Paso attack

2019-08-01T19:52:33Z

2019-08-01T19:52:33Z

Updated Thursday, August 1, 2019. El Paso event organizers disavow any connection with Antifa and a cartoon showing border agents being shot with arrows has been removed from their website. They deny there will be "militancy training."