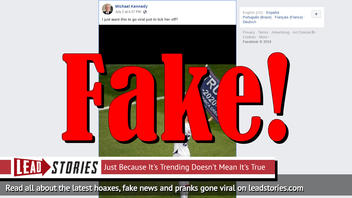 Is U.S. Women's National Soccer Team co-captain Megan Rapinoe holding a Trump campaign flag in a photo? No, that's not true: It is a digitially-enhanced image of Rapinoe, who President Trump targeted on Twitter after she said she would not visit the White House if her team won the women's World Cup. This image is satire.
The origin of the image is unclear, but it spread virally starting in late June, 2019 including in a post (archived here) published on July 2, 2019 under the title "I just want this to go viral just to tick her off!!". The image showed Rapinow with her arms raised and a blue Trump flag in her left hand that read:
Trump
-2020-
Keep America Great!
This is how it appeared to social media users:
Rapinoe and Trump have been engaged in a public feud after the soccer star's comments to a reporter for Eight By Eight, a soccer magazine, were published on June 25, 2019. When the reporter asked her if she was looking forward to visiting the White House if her team won the World Cup, she answered "I'm not going to the f*****g White House."
"I'm not going to the fucking White House." - @mPinoe pic.twitter.com/sz1ADG2WdT

-- Eight by Eight (@8by8mag) June 25, 2019
President Trump responded to Rapinoe's statement on Twitter:
Women's soccer player, @mPinoe, just stated that she is "not going to the F...ing White House if we win." Other than the NBA, which now refuses to call owners, owners (please explain that I just got Criminal Justice Reform passed, Black unemployment is at the lowest level...

-- Donald J. Trump (@realDonaldTrump) June 26, 2019