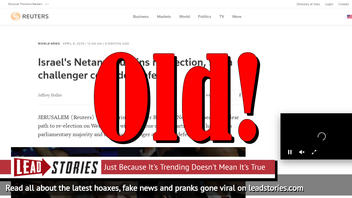 Did Israel's P.M. Netanyahu win re-election and did his main challenger concede defeat? Yes, but it didn't happen during the election in September a few days ago, it happened in April of 2019 during a different election as Reuters reported at the time. That article weirdly has gone viral in September of 2019 because people thought it was about the September 2019 election in Israel.
Election results in September of 2019 showed a different picture, here is the article Reuters put out on September 18, 2019:
JERUSALEM (Reuters) - Israeli Prime Minister Benjamin Netanyahu failed to win a ruling majority in an election that produced a virtual tie between his right-wing bloc and a center-left grouping that would be led by former military chief Benny Gantz.
The old article (archived here) was published on April 9, 2019 and was titled "Israel's Netanyahu wins re-election, main challenger concedes defeat". It opened:
JERUSALEM (Reuters) - Israeli Prime Minister Benjamin Netanyahu secured a clear path to re-election on Wednesday, with religious-rightist parties set to hand him a parliamentary majority and his main challenger conceding defeat.
According to the Jerusalem Post the latest (though yet unofficial) election results give Netanyahu's opponent Benny Gantz two seats more:
The Central Election Committee (CEC) announced around 1:30 a.m. Friday the "almost final" results of the elections. The results confirmed the latest results reported, giving Benny Gantz's Blue and White 33 seats and Benjamin Netanyahu's Likud 31 seats.
It is still unclear at this time which coalition will be formed eventually and who will become the next Prime Minister of Israel.