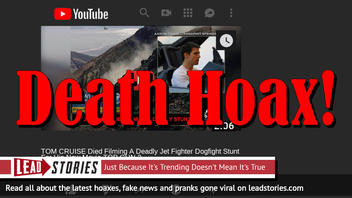 Did actor Tom Cruise die filming a deadly jet fighter dogfight stunt while filming Top Gun 2? No, that's not true: it is a hoax we found on a site that recently published a viral death hoax about Clint Eastwood. It appears the new hoax has not been promoted yet so this might be the first time in history a fact checker pre-emptively debunks a death hoax before it even started spreading.
We found the hoax on this site (archived here) under the title "TOM CRUISE Died Filming A Deadly Jet Fighter Dogfight Stunt For His New Movie TOP GUN 2". It did not contain any text except for a link to a second page that had this video embedded (archived here):
Note that the video is just a snippet from a real news report about an air crash that did not involve Tom Cruise:
A single-seat Navy fighter jet crashed Wednesday morning in Inyo County and the pilot's status was unknown, officials confirmed.
The site tricks people into sharing a link to the hoax by obscuring the video after a few seconds with a "sensitive content" warning and then demanding they share the link on Facebook to keep watching.
The exact same thing happened with a different hoax about Clint Eastwood that was also run by the same site. We wrote up the technical details of that hoax here:
Earlier this week Lead Stories already reported that Clint Eastwood was NOT dead, despite what a YouTube video was claiming: Hoax Alert Did Clint Eastwood recently die? No, that is not true: It is a celebrity death hoax.
It was an investigation of that hoax that Lead Stories stumbled on the (unreleased) Tom Cruise death hoax.