STORY UPDATED: check for updates below.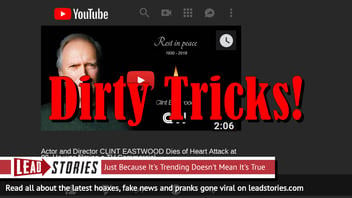 Earlier this week Lead Stories already reported that Clint Eastwood was NOT dead, despite what a YouTube video was claiming:
Hoax Alert Did Clint Eastwood recently die? No, that is not true: It is a celebrity death hoax. The "Dirty Harry" actor is alive and well as of September 1, 2019, contrary to a YouTube video that was viewed at least 80,000 times in the first three days after it was posted on August 28, 2019.
It turns out there is more to the story than that. It looks like this death hoax is being spread through quite sophisticated technical means that strongly resemble the tricks used in the "Great Rowan Atkinson Death Hoax" of 2017 although with this new hoax the technique has been refined even further.
Just like with the previous hoax people would encounter it on Facebook in the form of a post that looked quite convincing:

Note that the scammers used "10M views" as the description in a clever ruse to make people believe the video had indeed racked up that many views. People who clicked the link got to see a page like this hosted on hollywood.overseasdaily.com: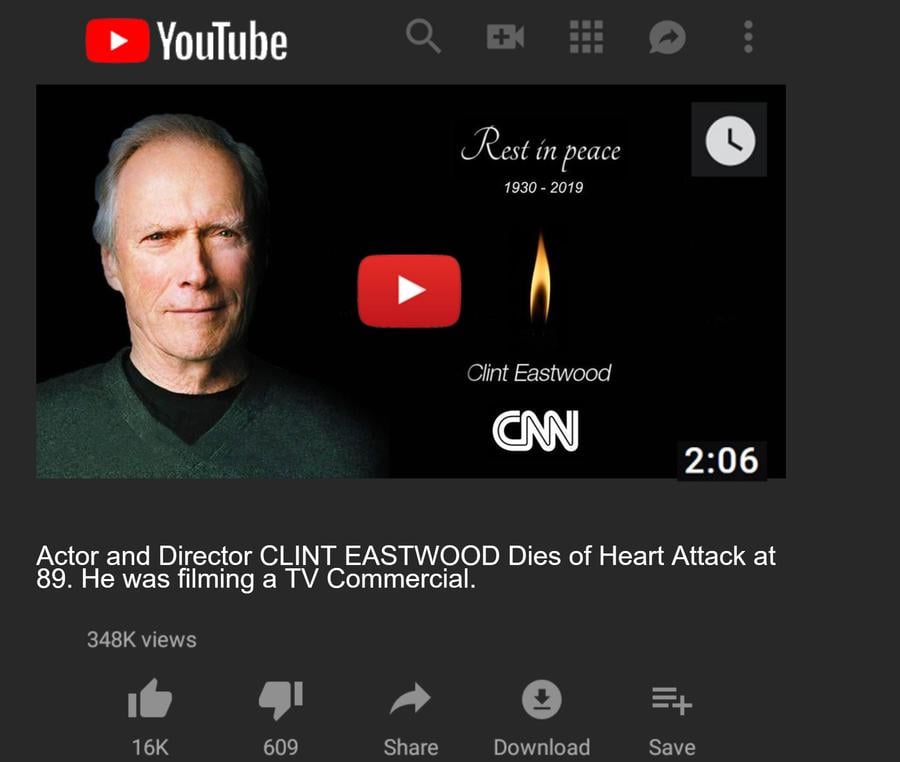 Note the different view count (which would be randomly generated if the page was reloaded). The "video" is not really a video but an image that links to a different site located at "https://worldnews.petpress.info/#news/7". That site in turn would have an actual embedded video player (and tons of ads):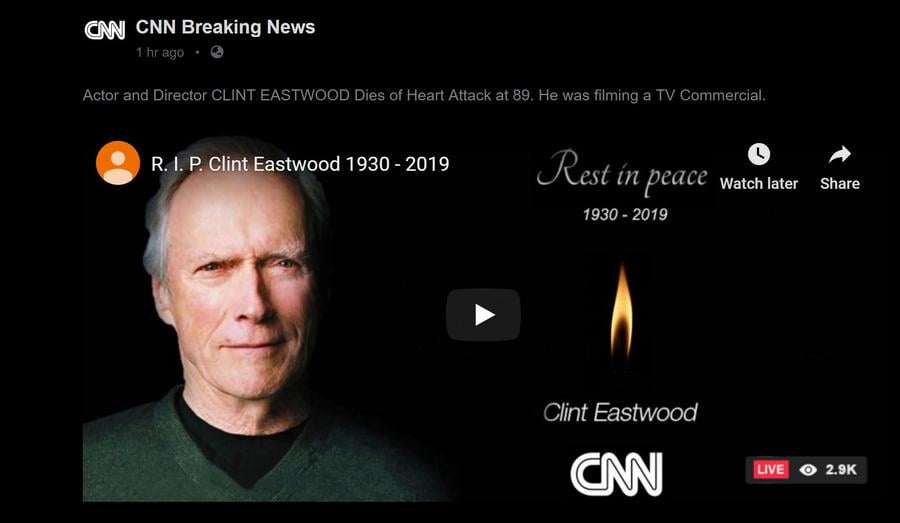 The video would be the one we already debunked in this article:
(video archived here)
But after a few seconds the video would be covered with a graphic content warning: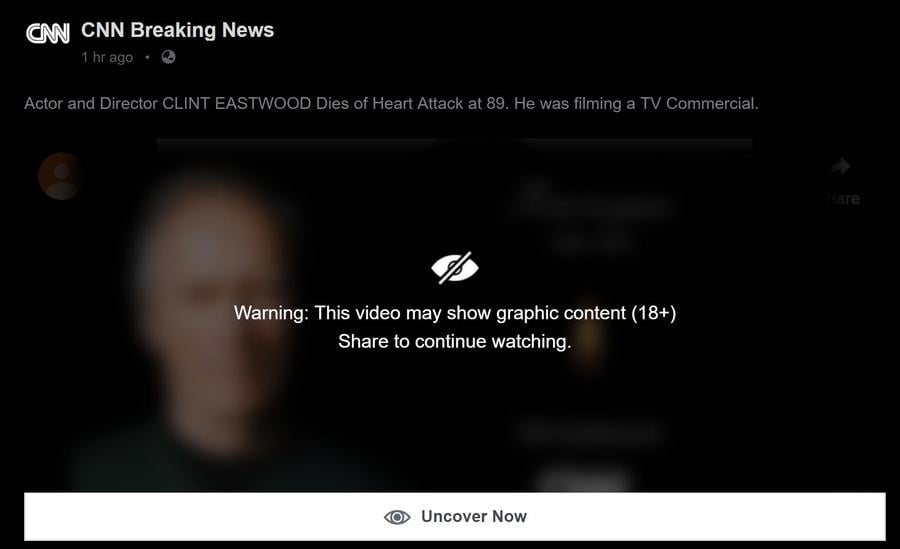 By using the same look and feel as the overlay and buttons used to cover graphic content on Facebook the scammers were undoubtedly able to get many people to click on the "Uncover Now" button. This would open a standard Facebook share dialog but instead of sharing the URL of the page users would share one of several identical pages from hollywood.tv-app.info, hollywood.overseasdaily.com or latestupdate.newsdaily.world.
Because of this not one but several dozen different links were going viral at the same time, making it much harder for anti-spam and anti-fake-news algorithms and systems to take down all the links.
Here is an example link (for as long as it stays up, we archived it here).
Just like with the Rowan Atkinson hoax there are several clues that point towards the Philippines as the possible origin of this hoax.
Several Facebook accounts that appear to have been used in the initial seeding seem to have links to that country.
The links being spread seem to contain random snippets written in the Tagalog language used in the Philippines:

https://hollywood.overseasdaily.com/5/p012/ikaw-at-ang-iyong-pamilya-ang-dapat-laging-magkas-z/
https://hollywood.overseasdaily.com/6/p007/ang-iyong-kaalaman-ang-madadala-mo-para-s-x9/
https://latestupdate.newsdaily.world/1/004/kapag-nasa-katwiran-dapat-ipakita/
https://hollywood.tv-app.info/5/s005/magtrabaho-ng-sobra-para--bk/
...

The petpress.info domain was used to seed content related to the country earlier this year as well: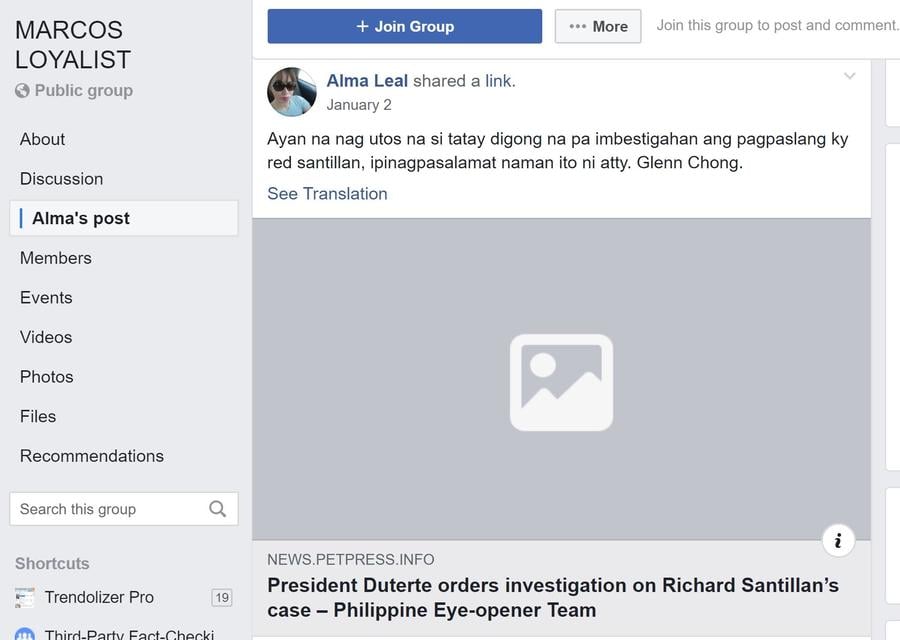 Lead Stories already identified over 120 separate links pointing to the hoax, with some of them getting thousands of engagements on Facebook.
2019-09-03T09:11:25Z

2019-09-03T09:11:25Z

Added more example links and newly spotted tv-app.info domain name, updated number of links found.