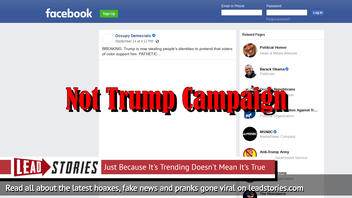 Did Donald Trump or his re-election campaign steal and modify pictures of U.K. celebrity Rykard Jenkins? No, that's not true: the image of the personal trainer best known for his participation in the TV show "Love Island" was stolen by a dodgy website ostensibly set up to sell Trump hats, but the website does not appear to be a part of the official Trump campaign and the hats seem to be knockoffs.
The story was reported on by Occupy Democrats in a Facebook post (archived here) on September 14 when they published a screenshot from Jenkins' Twitter feed accompanied by following caption:
BREAKING: Trump is now stealing people's identities to pretend that voters of color support him. PATHETIC...
This is the tweet in question (archived here):
Woke up this morning to know I'm the new face for the 2020 @realDonaldTrump campaign 🇺🇸 ? pic.twitter.com/gl5SqPxKsj

-- Rykard 🇬🇧 (@ItsRykard) September 13, 2019
The text in the screenshots included in the Tweet occurs on this website (archived here):
Click Here To Claim Your Cap Limited quantities available. Donald Trump is officially running to be re-elected in 2020. If you're a Trump supporter, then support him by grabbing one of these high quality President Trump 2020 hats for FREE while they are still available. The only catch?
The ordering buttons on the site don't seem to currently work but the site is clearly not affiliated with the real Trump campaign as it lacks any of the legally required notices. Compare with the real donaldjtrump.com campaign website where there is a notice in the footer that says:

In fact the site doesn't list any contact information or company details at all and the website was anonymously registered. According to WHOIS info the registration was updated somewhere last August:
Domain Information
Domain:conservativenews.co
Registrar:NameCheap, Inc.
Registered On:2019-07-31
Expires On:2020-07-31
Updated On:2019-08-05
Status:clientTransferProhibited
Name Servers:ns-1672.awsdns-17.co.uk
ns-1410.awsdns-48.org
ns-835.awsdns-40.net
ns-490.awsdns-61.com
Judging by the data found in the Internet Archive the site used to contain conservatively slanted news articles until around March 2, 2018 and started showing the hat-ads around mid September 2019. So it looks like the domain name was bought by some enterprising person hoping to make a quick buck.
BuzzFeed contacted the Trump campaign and they denied the site was theirs while labeling the hats as counterfeit:
Rykard Jenkins was hoping the gaffe would get President Donald Trump to tweet about him so he can secure his next reality show gig. Unfortunately for him, the Trump 2020 team told BuzzFeed News they had nothing to do with it.