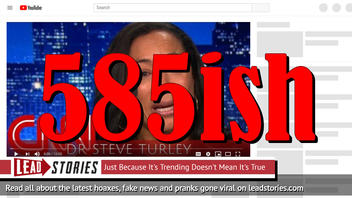 Were 7,200 jobs cut at CNN, Huffington Post and BuzzFeed in 2019? Or maybe if you include Vice? No, that's not true: a viral video claiming that specifc number of jobs were lost at CNN, Huffington Post, BuzzFeed, Vice and "other ultra left wing news organizations" severely overstates the job losses by lumping together lost jobs at several media companies that definitely aren't "ultra left wing news organizations". The 7,200 number comes from a September 18, 2019 Business Insider article that talks about the loss of media jobs in 2019 in general. Most of the losses were at Disney (4,000), Verizon (800), McClatchy (450) and Gannet (400). According to the B.I. article the job losses were 100 at CNN, an estimated 20 at Huffington Post, some 200 at BuzzFeed and 265 at Vice for a total of about 585.
The story originated from a video published by the Dr. Steve Turley YouTube channel on October 22, 2019 titled "7,200 Jobs CUT At CNN, Huffington Post, BuzzFeed in 2019!!!" (archived here, video archived here):
Users on social media only saw this title, description and thumbnail:
The actual numbers can be read here at Business Insider:
Rooster Teeth: 50 jobs; September 12 Rooster Teeth, an online media veteran that's lasted 16 years, announced its first round of layoffs in September, saying it would cut 13% of its workforce, or about 50 people.
Dramatic numbers for journalism and media in general, yes. The end of certain of these media outlets? Not really... CNN used to boast 4,000 employees, Vice about 3,000, BuzzFeed used to have 1,700 and Huffington Post once clocked in at around 926. Losing 585 of those is not fun for the people involved but hardly the end of the road for these companies.