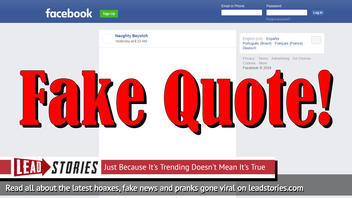 Did actor Tim Allen say "President Trump's wall costs less than the ObamaCare website. Let that sink in, America"? No, that's not true: Tim Allen's publicist confirmed to Lead Stories that the "Home Improvement" star never said those words. The highest estimate for the online enrollment system for ObamaCare, which was built and launched in 2013, was $2.1 billion, which is far less than the $8 billion to $20 billion projected costs for President Trump's proposed border wall.
The false claim was in a meme (archived here) widely shared on social media, including by Trump's son Eric Trump on September 10, 2019. It featured a photo of actor Tim Allen and the quote:
President Trump's wall costs less than the Obamacare website. Let that sink in, America.
Social media users saw this:
Tim Allen's Hollywood publicist Marleah Leslie confirmed to Lead Stories that her client never made the statement.
The Washington Post tracked down another Tim Allen -- a jewelry repair shop owner, not a famous actor -- who did make the statement in a Facebook post on August 25, 2019:
While the false claim that the wall project would cost more than the federal government spent to build the healthcare website circulated on social media for months, it gained new traction when presidential son Eric Trump attributed the quote to Allen when he shared it on Instagram on September 10, 2019:
No matter who said it, the claim that the enrollment system cost more than a yet-to-be-built border wall is false. Health and Human Services Secretary Sylvia Mathews Burwell told the Senate in 2014 that the website for the Affordable Care Act cost $834 million. This is what he said in a written answer to the question submitted by senators:
5. What has been the total cost of creating healthcare.gov to date? What has been thetotal cost of "fixing" healthcare.gov? Please include a detailed accounting of allcosts associated with this website, including (but not limited to) salaries andexpenditures, contractor costs, and training.

Answer: It is my understanding that as of February 28, 2014, CMS has obligated a total of approximately $834 million on Marketplace-related IT contracts and interagency agreements. These expenditures include the website and the systems that support enrollment through the Marketplace, such as the data services hub as well as other supporting IT infrastructure, including cloud computing, to support Marketplace IT development.
Bloomberg.com later quoted a government study that found added costs for the enrollment system that brought the total as high as $2.1 billion. Still, none of the projections for Trump's border wall put the budget anywhere near that amount. Congress has already given Trump $1.35 billion in wall funding (to end a government shutdown) and the president moved $3.6 billion from Pentagon construction budgets to wall work. Customs and Border Protection officials put together a plan in 2017 to build or replace 722 miles of border wall at a cost about $18 billion.
An online calculator projects a 40-foot wall stretching 1,950 miles would cost nearly $22 billion to build and another $13 billion to maintain for a decade.