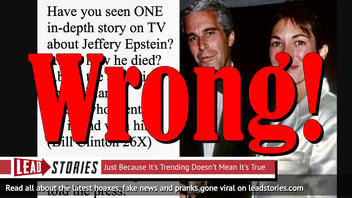 Did the news media ignore Jeffrey Epstein's flight manifests, including those concerning Bill Clinton, even after President Donald Trump told them to look? No, that's not true: Reporters wrote stories about former President Bill Clinton's travel on Epstein's plane more than four years before President Trump suggested it. The documents showed Clinton flying on Epstein's jet at least 26 times, but none of the destinations listed included the convicted sex offender's private Caribbean island. This fact checker (Alan Duke) published an investigative report in January, 2015 in which one of the women who claimed to be a sex trafficking victim said she saw Clinton on the island.
The false claim that the media ignored documentation of Clinton's travels on Epstein's jet has circulated in a meme, incuding one shared on Redditt on October 22, 2019 (archived here) which featured a photo of Epstein with his close associate Ghislaine Maxwell. The meme message read:
Have you seen ONE in-depth story on TV about Jeffrey Epstein? About how he died? About his activities on his island? About who went to his island with him (Bill Clinton 26)

President Trump told the press: 'check the plane manifests to his island.' They Never Did.
Users on social media only saw this title, description and thumbnail:
This meme carries a false claim that the media ignored charges of child sex trafficking against Jeffrey Epstein, who counted former President Bill Clinton and future President Donald Trump as his friends before his arrest in Florida. Specifically, the meme accuses the media of ignoring President Trump's suggestion that reporters examine the logs kept by Epstein's pilots, which name hundreds of people who flew on his private planes. These logs -- also called manifests -- were maintained routinely by the pilots to track their own flying hours, which is important for their pay and licensing. Some investigative reporters (including this writer) obtained flight logs that were part of a lawsuit in 2014. These only covered flights in the early 2000s. A much larger cached of logs were released by a judge's order in July 2019. You can view them here:
The names include well known performers, including Ralph Fiennes, Alec Baldwin, David Blaine, Jimmy Buffett and Courtney Love; media figures including Charlie Rose, Mike Wallace and Barbara Walters; former Israeli prime minister Ehud Barak, former British prime minister Tony Blair, industrialist David Koch and the late Salomon Brothers chief executive officer John Gutfreund and his wife, Susan.
TrafficKing yanks back the curtain on an underworld where children pay the ultimate price as victims. The story explores the darkest recesses of the corridors of power, from Harvard to the White House. Conchita Sarnoff, an investigative journalist, who despite bribes to stay silent, risked her life to expose the brutal reality of human trafficking and the Jeffrey E. Epstein case. Epstein, at the center of the saga, is a pedophile billionaire and Wall Street hedge fund manager and registered level-3 sex offender. It is a child sex trafficking story of epic proportions and the longest running human trafficking case in U.S. legal history; more poignant than the Lewinsky Scandal, Watergate Scandal and Profumo Affair combined. His team of attorneys included: Alan Dershowitz, Kenneth Starr, Roy Black and Gerald Lefcourt. HRH Prince Andrew, former President Bill Clinton, Alan Dershowitz and others were implicated in the case. A decade after Epstein's arrest, Virginia Roberts Giuffre vs. Ghislaine Maxwell is pending, along with two more related cases. It's a tug of war between lust and power and decency and human rights. The revelations in this book could have serious implications in the upcoming 2016 Presidential elections.
Sarnoff reported on Epstein and his influential friends for The Daily Beast, including this 2010 expose' titled "Jeffrey Epstein, Billionaire Pedophile, Goes Free."
Lead Stories editor-in-chief Alan Duke conducted extensive investigative reporting on Epstein in 2015, including a story for Radar Online titled "Bombshell Interview: Teen 'Sex Slave' Reveals Alleged Details Of Bill Clinton's Trip To Jeffrey Epstein's Orgy Island -- With 'Two Young Girls" and "Jeffrey Epstein, Prince Andrew Scandal: Secret 'Sex Slave' Abuse Victim Is A 'Well-Known' Hollywood Actress -- The Star Reveals Her Private Nightmare." A story titled "Cold Feet? Hillary Clinton's Reconsiders Presidential Bid As Bill Sex Scandal Unfolds -- 2016 Campaign 'On Hold!'" published on February 9, 2015 included details of Bill Clinton's flights as documented in the manifests:
Flight records obtained by Radar confirmed Bill Clinton's numerous trips aboard Epstein's Boeing 727 -- which Roberts said was equipped with a bed used for high-flying sex parties.

Roberts said in a sworn statement filed in court last month that despite some media reports, she never had sex with Clinton, nor witnessed him having sex with anyone else.
We wrote about i.redd.it before, here are our most recent articles that mention the site: