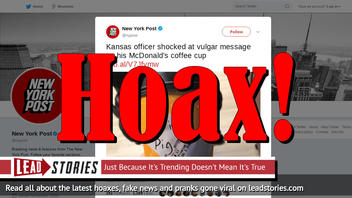 Did a Kansas police officer find a vulgar message on his McDonald's coffee cup? No, it's not true: The officer completely made up the story, and he is now out of the job he held for just two months.
The story gained traction on social media and across news sites ever since it first surfaced on Saturday, December 28, 2019. For example, the New York Post tweeted out its story, which opened:
A police officer in Kansas was shocked when he bought a coffee at the local McDonald's and saw "F-ing Pig," scrawled on the cup.

The chief of police in Herington said one of his officers went to the drive-thru in Junction City Saturday on his way to work when he received the insulting label.

"This is what he paid for," Police Chief Brian Hornaday wrote on Facebook, along with an image of the cup.

"This is likely the act of one person and not a representation of the company," Hornaday said.

When the incident was brought to the fast food giant's attention they offered the cop a free lunch.
The story originated from a Facebook post (which has since been deleted) by Herington Police Chief Brian Hornaday on December 28, 2019. Here is a screenshot of the post: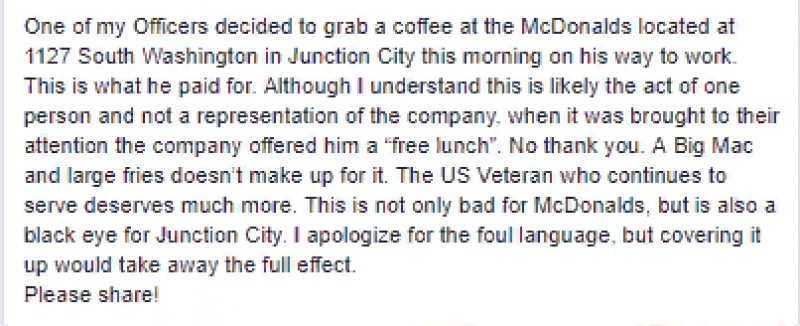 On Monday, December 30, 2019, the police officer resigned after admitting he had fabricated the story that McDonald's employees had written "F---ing Pig" on his coffee cup. Hornaday declined to identify the officer, who is 23. He said he had been employed with the department for two months. The officer, from Junction City, Kansas, had served as a military police officer for five years in the U.S. Army.
In a news conference on Monday, Hornaday said:
In (our) investigation, we have found that McDonald's and its employees did not have anything whatsoever to do with this incident. This was completely and solely fabricated by a Herington police officer who is no longer employed with our agency."
The police chief said the picture was "meant to be a joke," according to KSNT-TV. Hornaday called the incident a "black eye on law enforcement."
Here is a video of the news conference, which was posted on Facebook:
The Kansas story rang familiar to one that occured over Thanksgiving in which a Starbucks barista, later fired, printed "PIG" on the labels of an Oklahoma police officer's order. Starbucks issued this statement after the November 28, 2019, incident.