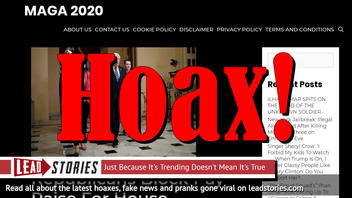 Did Republicans block a pay raise for U.S. House members? No, that's not true: actually, the cost-of-living pay raise, which was already included for consideration in the upcoming federal spending package, was halted by Democrats. Democrats feared being attacked by Republicans if they openly supported the raise, and they were.
The claim originated from an article published by MAGA 2020 on December 19, 2019, titled "Republicans Block Pay Raise For House Members - maga 2020" (archived here) which opened:
"House Minority Leader Kevin McCarthy and fellow Republicans blocked the planned vote on a proposed 2.6% pay raise for members of the House of Representatives.
House Republicans took a stand against what many consider government waste this week by blocking a vote on a measure that would raise the current pay for some lawmakers on Capitol Hill.

The increase, part of Congress' fiscal budget plan for next year, would have amounted to roughly $4,500 per year and was put forth by Democrats in the House last month."
It was revealed that several Republican leaders already backed the raise and even agreed in a private meeting not to attack Democrats over it. Still, the National Republican Congressional Committee called House Democrats "socialist elitists," before removing its news release denouncing Democrats, according to a Politico story.
As of June, the failed proposal marked about 10 years since members of Congress got a cost-of-living increase.
The false claim seems to have originated around the same time Congress was debating the issue of a pay raise: June of 2019. The oldest available mention of it on Twitter dates to June 26, 2019, but other sites - including americantimesmedia.com and israel-wire.com - referenced the false claim. However, the story on both sites has been since removed.
Users on social media only saw this title, description and thumbnail: