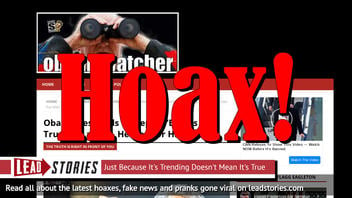 Did former President Obama respond to the Inspector General Watchdog report saying Attorney General William Barr is Trump's lap dog? No, that's not true: the self-proclaimed satirical article says Obama is being investigated, which he is not. The former president has not come out with recent comment on the report.
The story was published by a liberal satire website that tries to mislead Trump supporters and Republicans into sharing made up stories that are clearly marked as satire when you actually click them. Articles from the site are frequently copied by foreign-run fake news websites. The people liking and sharing these stories are enriching foreign website operators or a liberal from Maine via the ad revenue generated with the content which is probably not what they expected or wanted.
The story originated from an article published by Obamawatcher on December 12, 2019, titled "Obama Responds To Report:'Barr Is Trump's Lap Dog. He Lies For Him'" (archived here) which opened:
Faced with mountains of supposition from AG Barr with regard to the findings of the IG Watchdog report into the lead-up to the Russian collusion probe, former President Barack Obama is lashing out, as the guilty tend to do when the walls start closing in on them. Asked about the conclusions drawn by the investigation, Obama responded with some very strong words:

"Haha. You want me to give any credence to the report that Trump demanded to take attention from him. That thing is a joke. I won't even read it. It's not worth my time.

Think about who actually initiated it. Attorney-General Gay Barr. That man was hired by Trump specifically to perform hatchet jobs against Trump's political enemies. That's it. That's the only reason he holds that position. He's Trump's lapdog, a devoted servant. There isn't a word in that report that can be trusted and taken as fact."

Users on social media only saw this title, description and thumbnail:
Faced with mountains of supposition from AG Barr with regard to the findings of the IG Watchdog report into the lead-up to the Russian collusion probe, former President Barack Obama is lashing out,...
Barr was nominated by President Trump last year. The IG watchdog report, developed by Inspector General Michael Horowitz, found the Russia probe was justified. Horowitz was nominated and confirmed in 2012 under the Obama administration.
The report, numbering over 400 pages, debunked claims made by Trump to undermine the Russian Investigation. Additionally, Barr said he doesn't believe Obama officials committed treason while conducting the Russia investigation. The IG watchdog report had more to do with whether the FBI had sufficient grounds to open an investigation of the Trump campaign and possible ties to Russian interference.
As for Obama calling Barr "Trump's lap dog," there is no evidence such a statement was said. However, the defense attorney in the Stormy Daniels' case, Dean Steward, did reportedly call Barr a lap dog for Trump. The term has also been used in some opinion editorials in response to Trump's relationship with the attorney general.
The site is part of the "America's Last Line of Defense" network of satire websites run byself-professed liberal troll Christopher Blair from Maine along with a loose confederation of friends and allies. Blair has been in a feud with fact checking website Snopes for some time now and has also criticized other fact checkers in the past who labeled his work "fake news" instead of satire. In reaction to this he has recently rebranded all his active websites and Facebook pages so they carry extremely visible disclaimers everywhere.
Every site in the network has an about page that reads (in part):
About Satire
Before you complain and decide satire is synonymous with "comedy":

sat·ire
ˈsaˌtī(ə)r
noun
The use of humor, irony, exaggeration, or ridicule to expose and criticize people's stupidity or vices, particularly in the context of contemporary politics and other topical issues.

Everything on this website is fiction. It is not a lie and it is not fake news because it is not real. If you believe that it is real, you should have your head examined. Any similarities between this site's pure fantasy and actual people, places, and events are purely coincidental and all images should be considered altered and satirical. See above if you're still having an issue with that satire thing.
Articles from Blair's sites frequently get copied by "real" fake news sites who often omit the satire disclaimer and any other hints the stories are fake. Blair has tried to get these sites shut down in the past but new ones keep cropping up.
Here is a video of Blair explaining how his process works:
If you are interested in learning more about Blair and the history of his sites, here is something to get you started:
STORY UPDATED: check for updates below. Yesterday Eli Saslow at the Washington Post wrote a fantastic article about Christopher Blair, a man from Maine who has been trolling conservatives and Trump supporters online for years and occasionally even made a living out of it.
If you see one of his stories on a site that does not contain a satire disclaimer, assume it is fake news. If you do see the satire disclaimer it is of course also fake news.
NewsGuard, a company that uses trained journalist to rank the reliability of websites, describes obamawatcher.com as:
A site that publishes false stories and hoaxes that are often mistaken for real news, part of a network named America's Last Line of Defense run by hoax perpetrator Christopher Blair.
According to NewsGuard the site does not maintain basic standards of accuracy and accountability. Read their full assessment here.
We wrote about obamawatcher.com before, here are our most recent articles that mention the site: