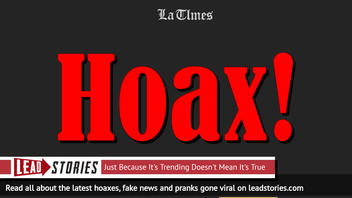 Did the Los Angeles Times report that Iran, China and Russia just declared war on the United States? No, that's not true: a prank website with a domain name nearly identical to the real LA Times site published a post that looked simliar to an LA Times article on social media. However, when users clicked on the link, the site played a video of Rick Astley singing "Never Gonna Give You Up," a classic joke known as "Rick Rolling."
You can see the supposed article here (archived here) on the "LA Tlmes" under the headline "Iran China And Russia Just Declared War On The United States." There is no visible date for the posting.
Along with the video of Rick Astley singing, users were greeted with the message:
YOU GOT RICK ROLLED IN 2020.
Users on social media only saw this title, description and thumbnail:
But no, the three countries did not declare war on the United States, whose bases in Baghdad were attacked January 7, 2020, by Iran after the U.S. used a drone to kill Iranian Revolutionary Guards Maj. Gen. Qassemi Soleimani on January 3, 2020. There has been no escalation since. Still, the U.S. does have tense relations with all three nations.
We wrote about latlmes.com before. Here are our most recent articles that mention the site: