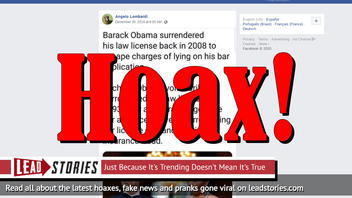 Did President Barack Obama surrender his law license in 2008 to escape charges of lying on his bar application? No, that's not true: The meme is a hoax that has been shared for years. Both of the Obamas have not renewed their licenses because they are no longer practicing law.
The claim resurfaced in a post (archived here) published by Angelo Lombardi on December 30, 2019. It opened:
Barack Obama surrendered his law license back in 2008 to escape charges of lying on his bar application. Michelle Obama voluntarily surrendered her law license in 1993 after a Federal Judge gave her a choice between surrendering her license or standing trial for insurance fraud.
Users on social media only saw this title, description and thumbnail:
The claim has been debunked by several fact-checking websites over the years, including FactCheck.org. As the site noted on June 14, 2012, a search of the website for the Attorney Registration & Disciplinary Commission (ARDC) of the Supreme Court of Illinois shows the former president is listed as "retired" (his last registered year was 2008). The former first lady is listed as "voluntary inactive," with her last registered year in 1993. There are no public records of disciplinary proceedings against either one.
The memes offer no evidence to back up the claims being shared. Because the Obamas are not practicing law, they likely have not sought to renew their licenses, allowing them to become inactive. The registration site in Illinois does not indicate either were forced to "surrender" their licenses.
Should the Obamas decide to reactivate their law licenses, it is a fairly straightforward procedure. This site mentioned the attorney would pay a fee and "advise the Administrator of the ARDC in writing that he or she desires to assume 'inactive status' and, thereafter, be registered as an inactive status attorney."