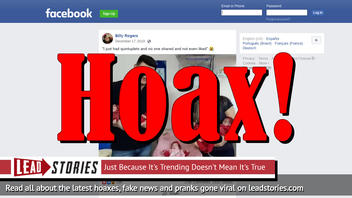 Did a Facebook user have quintuplets, "and no one shared or even liked" the post? No, that's not true: The user profile does not match the man in the photo, which is a real picture of the parents of quintuplets.
The claim originated from a post (archived here) published by a user named Billy Rogers on December 17, 2019. It opened:
"I just had quintuplets and no one shared and not even liked"
Users on social media only saw this title, description and thumbnail:
The post has generated lots of congratulatory comments and tens of thousands of shares and engagements on Facebook. However, the poster, who is named Billy Rogers and has a profile picture of an African American man, does not match the father of the babies in the photo.
Rogers' intentions for posting the photo are unclear.
The photo is real, though. A "reverse image search" revealed the couple is from Brazil, and the picture was taken on November 27, 2019. It shows Luis Fernando Araújo and his partner Anieli Kurpel posing with their five newborns.