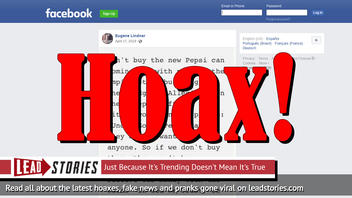 Did Pepsi make a new can featuring the Empire State Building and Pledge of Allegiance that left out the words "Under God"? No, that's not true: Pepsi has never produced such a design for its soft drinks, and this urban legend has been circulating on the Internet for several years.
The story continues to be shared, this time on a Facebook post (archived here) on April 17, 2019. It opened:
Don't buy the new Pepsi can coming out with pics of the Empire State building and the Pledge of Allegiance on them. Pepsi left out 2 little words in the pledge: "Under God." Pepsi said they didn't want to offend anyone. So if we don't buy them, they won't be offended when they don't receive our money with the words "In God We Trust" on it. How fast can u repost
The claim making the rounds warned people not to buy the "new" Pepsi can with the Empire State Building and Pledge of Allegiance displayed on them because they left out the words "Under God." However, Snopes debunked this rumor back in 2002.
The story originated after Dr Pepper (not part of PepsiCo) created a special patriotic can in the aftermath of the September 11, 2001, terror attacks in the United States. Its design showed the Statue of Liberty and the phrase, "One nation... Indivisible":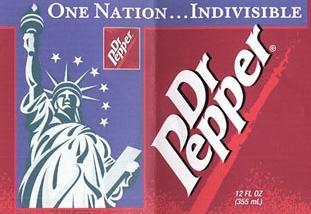 Because Dr Pepper did not print the entire pledge (the words "Under God" would have appeared where the ellipses are), some groups complained and called for boycotts. At the time, according to Snopes, Dr Pepper said the protesters were missing the point:
The special packaging was designed to reflect our pride in this country's determination to stand together as one.
Over the years, the rumor that the words "Under God" were omitted from soft drink cans got twisted, and people began sharing claims that Pepsi was creating similar cans. The brouhaha online has prompted the company to issue periodic press releases denying the hoax:
You may have received an erroneous message about a 'patriotic can' that Pepsi allegedly produced with an edited version of America's Pledge of Allegiance. The truth is, Pepsi never produced such a can. In fact, this is a hoax that has been circulating on the internet for more than nine years. A patriotic package used in 2001 by Dr Pepper (which is not part of PepsiCo) was inappropriately linked to Pepsi. Thanks for giving us the chance to clarify the situation."
While some lawmakers have debated removing the "Under God" language from the pledge, it has not happened. Nor is there any Pepsi can with the pledge omitting the language. Still, Internet users who see the post may think they are doing their patriotic or religious duty to share it. In reality, they are only spreading the false rumor even further.