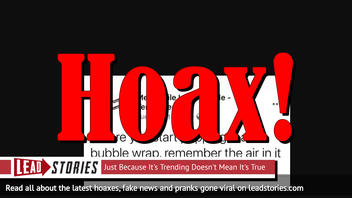 Does popping bubble wrap expose people to the coronavirus? No, that's not true: Besides the fact that bubble wrap is not produced by having people blow into the plastic, the claim originated from a satirical Facebook page that has been shut down.
Here is a tweet that was making the rounds in recent days. The novel coronavirus, which originated in Wuhan, China, has sparked conspiracy theories and generated fears among social media users. As of February 18, 2020, China's National Health Commission said more than 2,000 people had died, according to CNBC.
Users on social media saw this:
Before you start popping the bubble wrap from your next Amazon package, just remember the air inside the bubbles is from China.

You're welcome. pic.twitter.com/IgrnFQ3pTX

-- KaptanHindustan (@GautamTrivedi_) February 12, 2020
An article published by North Carolina Breaking News on February 10, 2020, made a similar claim. According to Snopes, the "About" section of the site mentioned it was a "satire/parody" page.
On February 17, 2020, WRAL.com reported that Facebook was removing the site for "posting false information and inflammatory content."
Lead Stories reached out to Dr. Stephanie Schroeder, an associate professor in the biology department at Webster University, who teaches courses in virology and biochemistry. She agreed that consumers don't need to worry about bubble wrap:
Someone is not breathing to put air in the bubble wrap. We know that [coronavirus] can be transmitted by aerosol droplets person to person, but that is not the air that is going into the bubble wrap.
But how long can viruses survive outside the human body? According to Schroeder:
It seems they can persist on metal, glass, or plastic for up to nine days if they were not treated for anything. But with just ethanol, hydrogen peroxide, or bleach, they are killed within a minute. So, you [should] decontaminate surfaces or just wipe them down.
Sealed Air Corporation, a company based in Charlotte, North Carolina, is one company that produces bubble wrap packaging supplies. In a statement to Lead Stories, the company said:
According to the Centers for Disease Control, the coronavirus or COVID-19 is mainly spread from person-to-person contact. The World Health Organization reports people are not at risk of contracting the virus from packages and letters from China. Sealed Air is tracking the COVID-19 outbreak and is following the guidance and precautionary measures recommended by health officials and local governments to protect its employees, operations and customers. The company requires rigorous health and safety standards in all its facilities and during the virus outbreak has been closely monitoring the well-being of its workers in China. Across the globe, Sealed Air is fully committed to producing and delivering products that exceed industry standards for quality and safety.
Ultimately, the bubble wrap story is a lot of hot air. Consumers do not need to be concerned about coronavirus contamination from popping the plastic packaging.