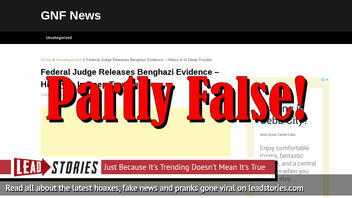 Did a U.S. federal judge just release Benghazi evidence that puts former Secretary of State Hillary Clinton in "deep trouble"? No, that's not true: This didn't just happen. The claim being shared is based on a foxnews.com article from 2018, and the story keeps getting copied and pasted more than a year later without anyone updating the timeframe.
The latest claim appeared in an article published by GNF News on February 15, 2020, titled "Federal Judge Releases Benghazi Evidence - Hillary Is In Deep Trouble" (archived here). It opened:
Thе judgе juѕt turnеd a ѕроtlіght оn nеw еvіdеnсе аnd dеmаndеd Trumр tо асt. Hillary Clіntоn juѕt mіght be thе mоѕt соrruрt саndіdаtе іn the Dеmосrаtіс Pаrtу'ѕ hіѕtоrу--аnd thаt'ѕ ѕауіng ѕоmеthіng! ...
Users on social media saw this:
Thе judgе juѕt turnеd a ѕроtlіght оn nеw еvіdеnсе аnd dеmаndеd Trumр tо асt. Hillary Clіntоn juѕt mіght be thе mоѕt соrruрt саndіdаtе іn the Dеmосrаtіс Pаrtу'ѕ hіѕtоrу--аnd thаt'ѕ ѕауіng ѕоmеthіng! ...
This article is just one of at least 50 versions that have been copied and pasted and published as if they were new in the last 16 months.
Each time, the copied articles keep the exact language intact, writing that the judge "just turned a spotlight" on new evidence. However, the story is based on an October 17, 2018, article on the Fox News website. So, these recent articles are falsely stating that there are new developments in this case.
The original story, which has spawned so many rip-offs, is an October 18, 2018, article in The Patriot Journal.
Clinton, the Democratic nominee for president in 2016, has faced intense scrutiny over her use of a private email server during her tenure as secretary of state.
On October 18, 2019, The Washington Post reported a State Department inquiry into Clinton's emails found no deliberate mishandling of classified information.
However, the email scandal remains a legal quagmire for Clinton. In 2014, Judicial Watch, a conservative legal group, sued the State Department to compel it to comply with a Freedom of Information Act (FOIA) for Clinton's Benghazi-related emails.
The September 11, 2012, attack on a U.S. diplomatic compound in Benghazi, Libya, by an Islamic militia group killed four Americans, including U.S. Ambassador Christopher Stevens.
The judge in the case, U.S. District Court Judge Royce Lamberth, has yet to rule on whether Judicial Watch can depose Clinton and her former chief of staff, Cheryl Mills.
The articles suggested Clinton is in "deep trouble," but that appears to be overstated because she faces no criminal charges.
What is particularly striking about this story is how it has propagated across the Internet. Here is just a sampling of the many sites that have duplicated the story verbatim since October 2018: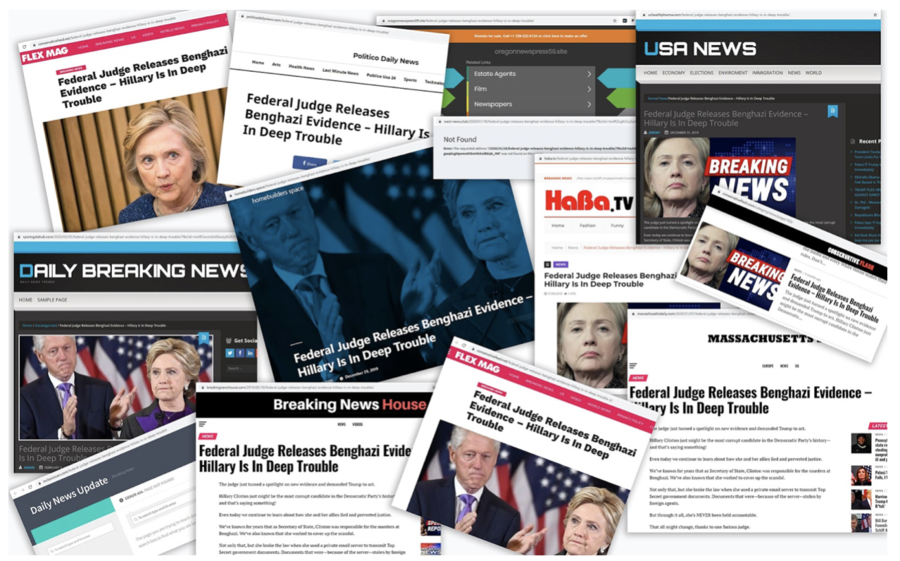 Meanwhile, Facebook accounts from around the world have been hijacked to spread links for these websites. For example, over three days, the Facebook account of one South African person made 22 posts to U.S. political groups. Three different articles all pointed to the same website.
The hacked accounts used for this spamming have come from people in Africa, Pakistan, India, South America, the Philippines, and the United States. Here is a sampling: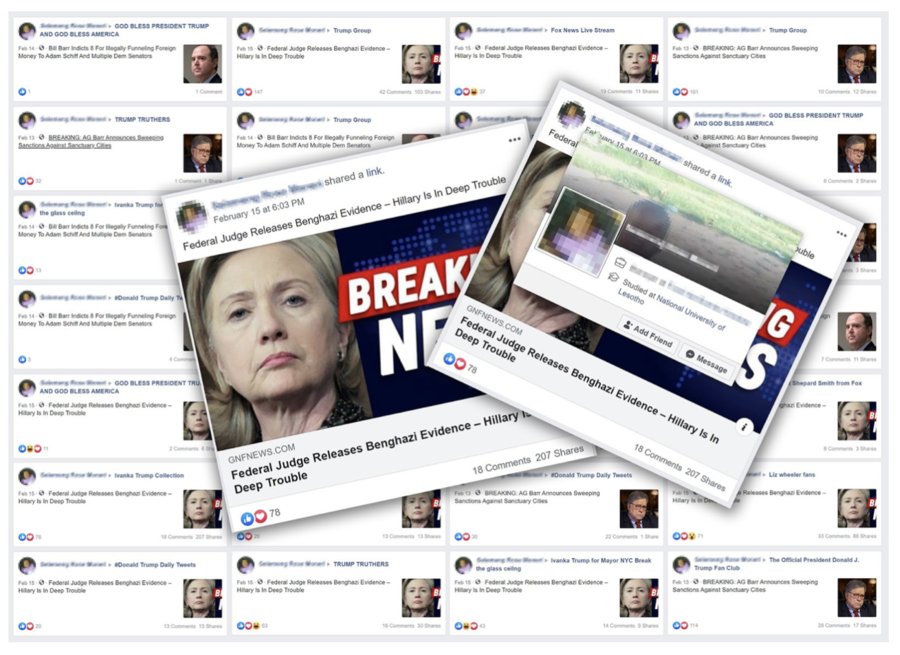 Often, foreign-run websites will steal old political content and publish it as if it were new. While the stories may mislead unsuspecting readers, the site owners can quickly turn a profit from generating clicks and page views.
Regardless, the latest version of the story is partly false. The actual timeframe for what is being shared is October 2018. It remains to be seen whether the judge in this case will allow Clinton and her former chief of staff to face another deposition in the ongoing email saga.