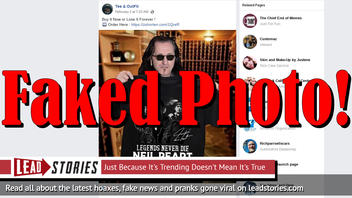 Did Rush's Geddy Lee pose for a photo used to sell tribute shirts for his deceased bandmate Neil Peart? No, that's not true: A social media post advertising the sale of tribute shirts for Peart, who died on January 7, 2020, featured a digitally altered photo that used Lee's head and someone else's hands holding the shirt. The same marketer has faked photos for ads purportedly showing LeBron James holding up a Kobe Bryant tribute shirt.
The claim originated from a post (archived here) where it was published by Tea& OutFit on February 2, 2020. The post read:
Buy It Now or Lose It Forever !
This is what social media users saw:
Peart was the drummer and primary lyricist for the Canadian rock band. He died in Santa Monica, California, on January 7, 2020, at the age of 67. Lee played bass and keyboards and sang.
The faked image is a poor attempt to fool fans into thinking that Lee was behind the sale of the shirts.
Lead Stories previously wrote about this same marketer faking a image for a Kobe Bryant shirt:
Fake News: LeBron James Is NOT Selling Kobe Bryant Tribute Shirts