Will American taxpayers save $57.4 billion annually after President Trump "banned illegal immigrants from using welfare?" That's not true: The post appears to be based on a 2017 study of immigrants -- not Illegal immigrants -- and their costs to American taxpayers. The study, as well as a Breitbart story about the study, is not about illegal, or undocumented, immigrants but about those seeking to enter the United States through proper channels.
The claim gained traction in a post (archived here) on Facebook dated April 9, 2020. It opened:
President Trump has banned Welfare for Illegal immigrants which will save $57.4 Billion a year

Do you support Trump on this?? I damn sure do!!
This is what the post looked like on Facebook at the time of writing: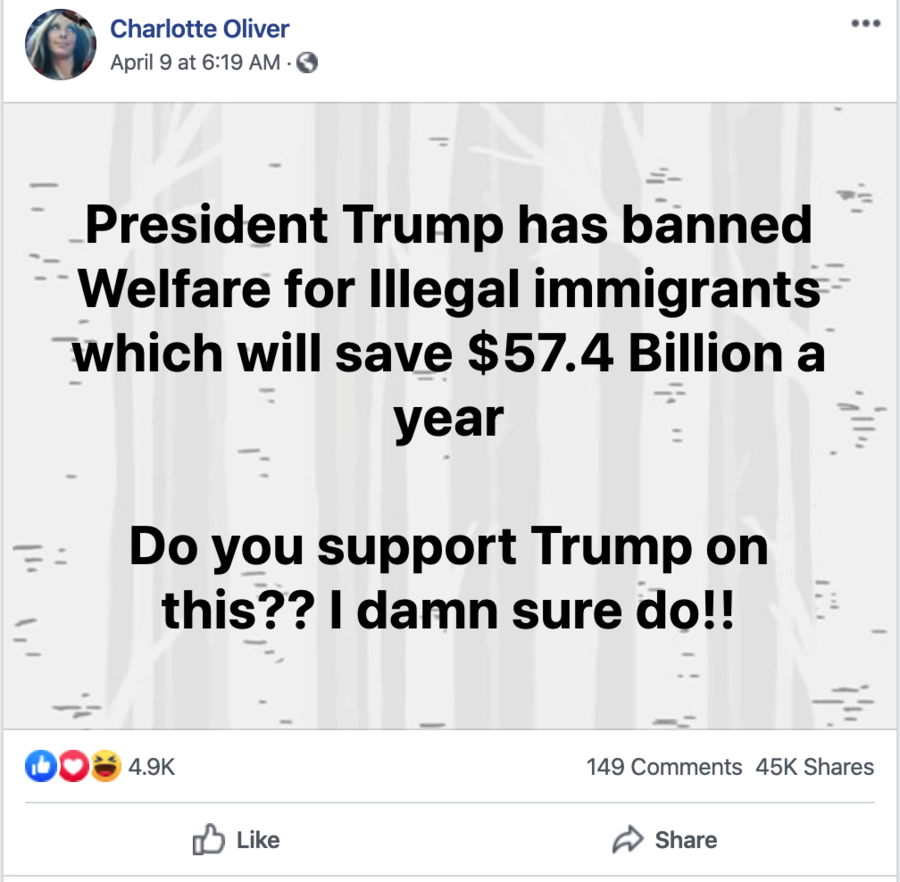 In late February 2020, the Trump administration enacted a new rule that established a test to determine whether an immigrant applying to enter the United States would end up dependent on public programs, Vox.com reported.
Trump first announced the rule in August 2019. At the time, according to The New York Times, he said:
I am tired of seeing our taxpayer paying for people to come into the country and immediately go onto welfare and various other things. So I think we're doing it right."
Here is the White House statement on the rule, which does not mention the figure $57.4 billion. That amount began to appear just days after the announcement. It was tweeted out by Julio Gonzalez to his 42,700 followers. It quickly raked in over 45,000 shares and more than 16,700 likes.
President Trump has banned immigrants from using welfare.

This will save American taxpayers $57.4 BILLION every single year.

This is something we can ALL be thankful for.

-- Julio Gonzalez (@TaxReformExpert) August 15, 2019
The $57.4 billion can also be found almost three years earlier, in a September 2016 Breitbart story:
Mass immigration is pushing huge costs on to state taxpayers for schooling, crime and welfare, says a new report by the prestigious, government-endorsed National Academies of Science, Engineering and Medicine.

Each immigrant costs state and local taxpayers roughly $1,600 more per year than the immigrant generates in taxes, the report notes. In total, the current annual net cost of first-generation immigrants -- including the cost of educating their children -- adds up to $57.4 billion per year, much of which is paid by state and local taxpayers."
That story and another from Breitbart are based on an advance copy of a study by The National Academies of Sciences Engineering Medicine -- which reads, in part:
For the 2011-2013 period, the net cost to state and local budgets of first generation adults (including those generated by their dependent children) is, on average, about $1,600 each. In contrast, second and third-plus generation adults (again, with the costs of their dependents rolled in) create a net positive of about $1,700 and $1,300 each, respectively, to state and local budgets. These estimates imply that the total annual fiscal impact of first generation adults and their dependents, averaged across 2011-2013, is a cost of $57.4 billion..."
But the paragraph continued:
...while second and third-plus generation adults create a benefit of $30.5 billion and $223.8 billion, respectively. By the second generation, descendants of immigrants are a net positive for the states as a whole, in large part because they have fewer children on average than do first generation adults and contribute more in tax revenues than they cost in terms of program expenditures.
So, the Facebook post is false, as it's not based on "illegal immigrants", and the tweet is misleading because there's no context to the $57.4 billion figure, which, in the study, is dwarfed by the benefits by different generations of immigrants.
The rule enacted by Trump specifically targets "aliens" trying to legally enter the U.S., and it states the federal government would try and determine if these immigrants would need public assistance at a later date. This way, the government could determine whether to grant or deny admission to the country.
The U.S. Department of Homeland Security (DHS) proposes to prescribe how it determines whether an alien is inadmissible to the United States under section 212(a)(4) of the Immigration and Nationality Act (INA) because he or she is likely at any time to become a public charge.
Also, the rule does not ban immigrants from using welfare -- something already set in law. Rather, it toughens the criteria for people seeking to lawfully enter the country.
Under U.S. law, immigrants are eligible for limited governmental assistance programs if they have lived in the country legally for five years. Undocumented immigrants are eligible for far less assistance, according to The National Immigration Forum. From that report is this section:
Are undocumented immigrants eligible for federal public benefit programs?

Generally no. Undocumented immigrants, including DACA holders, are ineligible to receive most federal public benefits, including means-tested benefits such as Supplemental Nutrition Assistance Program (SNAP, sometimes referred to as food stamps), regular Medicaid, Supplemental Security Income (SSI), and Temporary Assistance for Needy Families (TANF). Undocumented immigrants are ineligible for health care subsidies under the Affordable Care Act (ACA) and are prohibited from purchasing unsubsidized health coverage on ACA exchanges.

Undocumented immigrants may be eligible for a handful of benefits that are deemed necessary to protect life or guarantee safety in dire situations, such as emergency Medicaid, access to treatment in hospital emergency rooms, or access to healthcare and nutrition programs under the Special Supplemental Nutrition Program for Women, Infants, and Children (WIC).