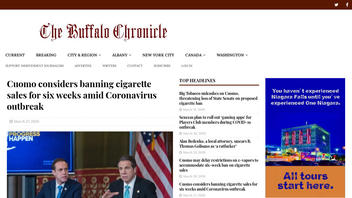 Is New York State about to ban cigarette sales to combat the novel coronavirus? No, that is not true: A doctors association has spoken out about tobacco use possibly escalating the toll of the virus, and did call for a ban. But Gov. Andrew Cuomo's team told Lead Stories that he is not about to announce a six-week ban on cigarette sales to help curb the death rate from COVID-19, which has devastated the state.
The story originated in an article (archived here) published by The Buffalo Chronicle website on Friday March 27, 2020, and it has been updated a few times since then. Under the title "Cuomo considers banning cigarette sales for six weeks amid Coronavirus outbreak" It opened:
Governor Andrew Cuomo is considering a temporary six-week ban on the sale of combustible cigarettes in order to reduce the State's Coronavirus death count, a source familiar with his thinking tells The Chronicle. The ban could come as soon as Monday and is expected to be included in a budget measure already scheduled to be announced.
Users on Facebook saw posts like this: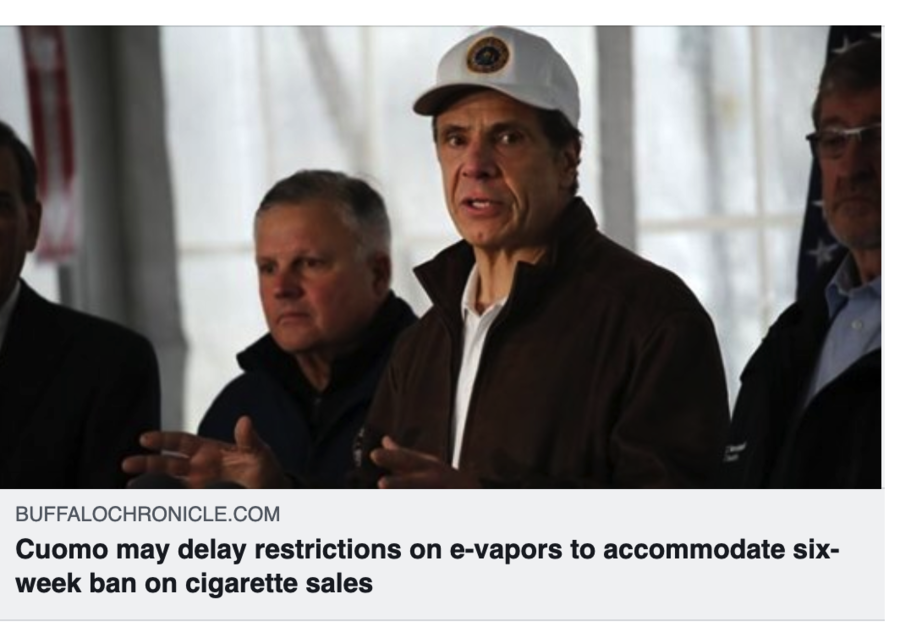 There have been several additional writes and updates to the story since the orignal claim, which also said:
New data out of Italy suggest that the nation's whopping Coronavirus death rate -- now approaching 10% of those who test positive -- is highly correlated to cigarette use. Italian men smoke cigarettes at rates that far outpace most other developed countries, and the extreme shortage of ventilators there has been the cause of death for tens of thousands of smokers."
On March 28, the website posted a new story, claiming:
Public health officials close to Governor Andrew Cuomo are assuring key staffers that the administration's temporary six-week ban on combustible cigarettes -- expected to be announced Monday morning and take effect at 11:59 pm Monday night -- will include a delay to new restrictions on e-vapors. Those restrictions were announced last month and were expected to go into effect this week."
Monday came and went without a ban, and the Chronicle posted a new article on March 31, this time with the headline: "Big Tobacco unleashes on Cuomo, threatening loss of State Senate on proposed cigarette ban."
That article claimed:
After reports swirled across the State late Friday night that senior public health officials in the administration of Governor Andrew Cuomo were actively drafting a temporary six-week ban on the sale of combustible cigarettes, the Altria Group (which owns Phillip Morris, R.J. Reynolds, JUUL, and most other nicotine-based consumables) had 'wartime lobbyists' on the ground in Albany by daybreak Saturday."
But Cuomo senior spokesman Rich Azzopardi told Lead Stories on April 2, 2020, that all the stories posted on the Buffalo Chronicle website concerning Cuomo are "bullshit."
"These ridiculous claims are 100 percent bullshit, and the website should be ashamed of spreading misinformation and panic during this pandemic," he said. "There is no truth to any of it. It's all fiction, all garbage,"
The Toronto Star newspaper also published an investigation in October of 2019, accusing Buffalo Chronicle publisher Matthew Ricchiazzi of writing false viral stories about Canadian politicians.
"A Buffalo website is publishing 'false' viral stories about Justin Trudeau- and there's nothing Canada can do about it," the headline said.
It is true that tobacco products are a hot topic in New York, and there is a call by a state doctors group to ban all tobacco products on the suspicion they may make people more vulnerable to the coronavirus. The head of the New York Academy of Family Physicians called for a ban in a statement on March 22, 2020.
Earlier this year and prior to the coronavirus outbreak, Cuomo had proposed banning flavored e-cigarettes to lower the number of young users. The ban was successfully challenged in court by the vaping industry, although new legislation could revive the issue.
NewsGuard, a company that uses trained journalists to rank the reliability of websites, describes buffalochronicle.com as:
A website covering New York State, U.S., and Canadian politics that has frequently published false and unsubstantiated conspiracy theories, often aimed at left-leaning politicians.
According to NewsGuard, the site does not maintain basic standards of accuracy and accountability. Read their full assessment here.