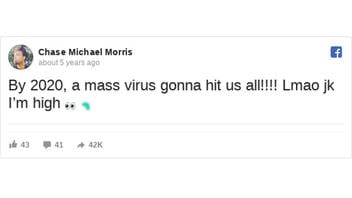 Did a Facebook user named Chase Michael Morris predict in 2015 that a virus would hit in 2020? No, that's not true: the post in question was originally about buying shoes at Walmart, but it was edited on March 25, 2020, and changed into a virus prediction. Facebook posts can be edited and jokers sometimes pretend to have predicted the future by updating an old post with new text.
The Facebook post (archived here) was originally published on March 25, 2015, and was updated on March 25, 2020, to read:
By 2020, a mass virus gonna hit us all!!!! Lmao jk I'm high 👀 🦠
This is what the post looked like on Facebook at the time of writing:
The post with the new text got shared over 42,000 times, and many people wondered how Morris knew what was going to happen.
However, back in 2015 the post read like this:
So i go to walmart to buy shoes for work, i ask an employee if they can get the correct size for me. i buy them and go home, i go ro put them on and there is two left shoes and there completely different sizes, wtf. What are the requirements to work at walmart? Jesus
You can verify this for yourself by clicking on the three little dots in the top right corner of the post and viewing the "Edit History":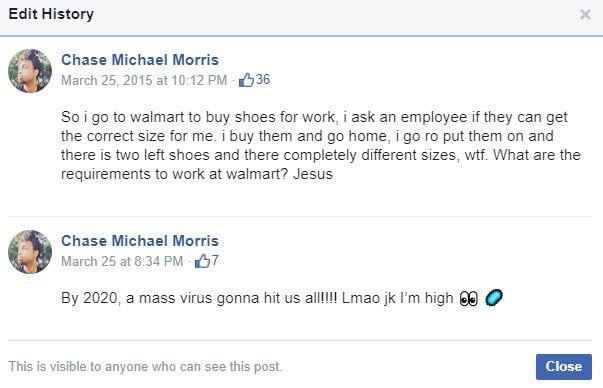 If you see a prediction in a Facebook post, always check if it was edited before believing it.