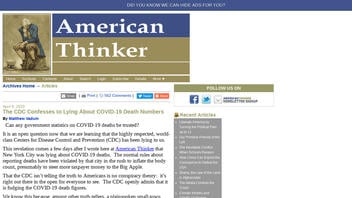 Did the Centers for Disease Control and Prevention confess to lying about COVID-19 death numbers? No, that's not true: The headline inaccurately suggests that the CDC made a "confession." Instead, a viral video offered one doctor's allegation that the CDC has sanctioned the inflating of coronavirus death statistics. However, we have previously called out similar assertions as false.
The claim appeared in an article (archived here) published by American Thinker on April 9, 2020, under the headline "The CDC Confesses to Lying About COVID-19 Death Numbers." It opened:
Can any government statistics on COVID-19 deaths be trusted?

It is an open question now that we are learning that the highly respected, world-class Centers for Disease Control and Prevention (CDC) has been lying to us.

This revelation comes a few days after I wrote here at American Thinker that New York City was lying about COVID-19 deaths. The normal rules about reporting deaths have been violated by that city in the rush to inflate the body count, presumably to steer more taxpayer money to the Big Apple.

That the CDC isn't telling the truth to Americans is no conspiracy theory: it's right out there in the open for everyone to see. The CDC openly admits that it is fudging the COVID-19 death figures.
This is how the article appeared on social media:
The CDC Confesses to Lying About COVID-19 Death Numbers - American Thinker

"it's right out there in the open for everyone to see. The CDC openly admits that it is fudging the COVID-19 death figures."
https://t.co/6chxeeG05a

-- Nerd Nation (@Nerditupnation) April 9, 2020
The headline purports that the CDC offered a "confession" about how it wrongly advised doctors and medical examiners to fill out death certificates. The suggestion is that the CDC is deliberately inflating the numbers of COVID-19 deaths.
This is not true. The CDC did not confess to lying about anything.
Lead Stories has previously looked into online claims that asymptomatic carriers of COVID-19 who die of other medical problems would be added to the coronavirus death toll. It was a false assertion.
We interviewed Dr. Sally Aiken, M.D., the president of the National Association of Medical Examiners (NAME), and a practicing medical examiner in Washington state. She said:
For decedents (dead persons) who are known to be positive for COVID-19, and who have symptoms, the vast majority have died during a hospitalization. If they were otherwise healthy, the deaths are being attributed to COVID-19 on the death certificate. The exact certification may vary from jurisdiction to jurisdiction.
Aiken said the CDC had issued guidance for death certification on its website. According to its guidance, dated March 4, 2020:
It is important to emphasize that Coronavirus Disease 2019 or COVID-19 should be reported on the death certificate for all decedents where the disease caused or is assumed to have caused or contributed to death.
Individuals with underlying medical conditions are in the higher-risk groups for the coronavirus, as Aiken detailed:
As most people are aware, people pre-existing disease like heart failure, and COPD, seem to be at higher risk for death due to COVID-19. If those individuals are positive for COVID-19 and have symptoms, COVID-19 is typically being listed on the death certificate as the cause of death, with their other diseases listed as contributory. This helps all of us, as we learn what the natural disease risk factors for COVID-19 death are. It is not a conspiracy, or any different than what occurs during non-COVID-19 times. (If someone dies of Influenza A or B, contributory causes are often listed on the death certificate as well.)
The American Thinker article is based on a widely-viewed YouTube video featuring Dr. Annie Bukacek, a Montana doctor who is also part of the anti-vaccine and militia movement.
In the video, Bukacek claims that the CDC is artificially inflating the number of coronavirus deaths and telling doctors to list COVID-19 for any respiratory-related fatality. To justify her concerns, she noted:
People are being terrorized by fear mongers into relinquishing cherished freedoms.
However, Montana Public Radio interviewed Dr. David Myerowitz, a retired cardiac surgeon, who said her assertions are not valid. For example, he referred to the CDC's coronavirus statistics during the period February 1 to April 4.
During that timeframe, which covers most of this outbreak, they list 4,984 deaths from COVID-19, but 36,000 deaths from pneumonia. So, if they were trying to get every possible death that involved a respiratory illness listed as COVID-19, they aren't doing a very good job of it.
Bukacek offered no specific examples of this actually happening. The anecdotes she described were hypothetical examples.
The description of the video said Bukacek "blows the whistle" on the way the CDC is "instructing physicians to exaggerate COVID-19 deaths." But simply offering hypothetical examples does not make her a whistleblower, regardless of her medical training.
Later in the video, Bukacek seemingly denounced the stay-at-home guidelines many states and municipalities have implemented. She said:
But today, when governments are taking making massive changes that affect our constitutional rights, and those changes are based on inaccurate statistics, it does matter.
Her comments seeking to undermine efforts to curb the spread of the coronavirus are particularly dangerous at a time when the country is dealing with an unprecedented pandemic.
The video, on which the American Thinker article is based, has been viewed almost 800,000 times as of April 15, 2020.
The article also seeks to equate the outbreak to the flu ("roughly a very nasty flu season"), a faulty comparison, as Lead Stories has previously shown.
NewsGuard, a company that uses trained journalists to rank the reliability of websites, describes American Thinker as:
A website offering conservative analysis and commentary on political and cultural issues that has repeatedly published misleading and false articles.
According to NewsGuard, the site does not maintain basic standards of accuracy and accountability. Read their full assessment here.